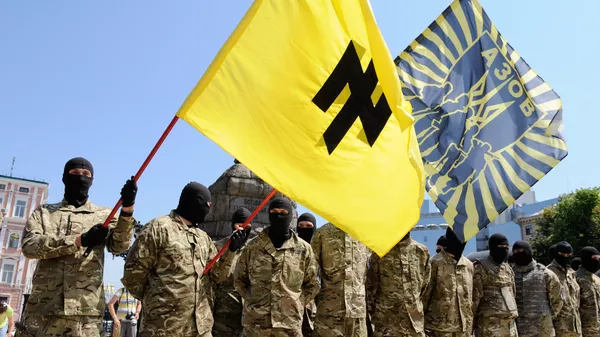 Trvalo päť a pol roka, kým sa americkí kongremani "presvedčili" o skutočných cieľoch ukrajinskej pravicovej jednotky "Azov". Neočakávane pre mnohých, 40 predstaviteľov Kongresu podpísalo petíciu pre ministerstvo zahraničných vecí USA, v ktorej žiada, aby bol tento prápor (aspoň v dokumente, sa to nazýva prápor) zaradený do oficiálneho zoznamu zahraničných teroristických organizácií.
Toto spôsobilo na Ukrajine šok a odpor mnohých úradníkov. Ukrajinskí používatelia sociálnych sietí už obviňujú Moskvu zo všetkého. Ukazuje sa, že v americkom kongrese je zakorenených "40 ruských agentov".
Čo sa stalo? Čo spôsobilo také úžasné rozhodnutie amerických politikov, že si dlhé roky nevšimli vojnových zločinov Azova v Donbase?
Faktom je, že činnosť ukrajinských "hrdinov ATO" a ich podporovateľov sa presunula na americkú pôdu.
Jasne to naznačuje posolstvo kongresmanov, ktoré vypracoval mladý politik Max Rose. Otvorene hovorí, že sa obávajú skutočnosti, že "Azov" a podobné štruktúry na Ukrajine prijímajú a školia amerických pravicových radikálov, ktorí už používajú svoje bojové schopnosti v Spojených štátoch.
Teraz sa v štátoch sa pomerne aktívne diskutuje o dvoch konaniach týkajúcich sa zločinov amerických účastníkov ukrajinského ATO alebo ich podporovateľov. Najvýznamnejšou udalosťou je vražda manželského páru na Floride v apríli 2018. Obvinení sú dvaja americkí občania, ktorí sa v rokoch 2016 – 2017 zúčastnili bojov v Donbase na strane "pravého sektora".
Vrah bol po horúcom prenasledovaní zatknutý a jeho spolupáchateľovi sa podarilo utiecť späť na Ukrajinu, kde sa teraz diskutuje o jeho vydaní do Spojených štátov. Ukrajinské médiá navyše spustili hlučnú kampaň na podporu militantov ,kde hovoria, že môžu čeliť v USA trestu smrti , takže "hrdinu ATO" nemožno vydať. Nikto nespomýna že je tento Američan zapojený do vraždy pokojných civilistov na Floride,
Štúdiom väzieb tohto bojovníka pomohlo americkým orgánom činným v trestnom konaní zabrániť ďalším zločinom v Spojených štátoch. Pred mesiacom FBI v Kansase zatkla jedného zo svojich vojakov, ktorý udržiaval korešpondenciu s uvedeným "hrdinom ATO" a diskutoval o plánoch na zabitie antifašistov a politikov, o výbuchu kancelárie agentúry CNN a ďalších teroristických útokoch. , Okrem iného pripustil, že plánoval ísť na Ukrajinu a pripojiť sa k radom práporu "Azov". Stojí za zmienku, že ministerstvo spravodlivosti USA komentovalo tento prípad kde priamo ho nazývalo "Azov" "násilnou pravicovou" organizáciou.
Nie je to tak dávno, keď Kongres dostal rozsiahlu správu od bývalého agenta FBI Aliho Safwana, ktorý študoval pravicové hnutia po celom svete a vzťahy medzi nimi. Osobitná pozornosť sa venuje správe o "Azove", ktorej zahraničné bunky podľa autorov začali hrať pre neonacistov po celom svete rovnakú úlohu, ktorú zohrávala pre džihádistov na celej planéte organizácie "aktab-al-hidamat". , ktoré sa zaoberajú náborom medzinárodných bojovníkov pre "al-Káidu". "Rovnako ako v prípade skupín džihádistov je cieľom mnohých z týchto ľudí návrat do krajiny pôvodu (alebo do tretích krajín), aby narušili a vytvorili násilné činy a aby prijali nových členov pre svoje účely," uvádza sa v správe.
Táto pasáž trápila amerických kongresmanov najviac . Max Rose vo svojej petícii pripúšťa očividné nepresnosti, spomínajúc austrálskeho teroristu Brentona Tarranta, ktorý v marci tohto roku zorganizoval masaker v novozélandskom meste Christchurch. Kongresman písal, že Tarrant vo svojom "Manifeste" spomenul svoju účasť v "Azove". V skutočnosti masový vrah iba naznačil, že bol na Ukrajine, bez toho, aby upresnil, kde a s kým. Je možné, že absolvoval výcvik v ATO, dokonca hovoril s ukrajinskými neonacistami. V každom prípade sa Ukrajina stala pravdepodobne jedinou krajinou na svete, kde bol tento "Manifest" uverejnený vo forme brožúry a predávaný. Nielen to, ukrajinskí pravicoví radikáli nazývali Tarranta "dvojčaťom", naznačujúc, že ​​s ním majú nejaký vzťah.
Prezident Zelensky na návšteve u Azova ktorý sa odmietol odzbrojiť.
Priame prepojenia austrálskeho teroristu s "Azovom" zatiaľ nie sú potvrdené. Pravdepodobne preto, že na Ukrajine nikto ani nezačal vyšetrovanie jeho kontaktov z miestnymi. Kým dôstojníci orgánov činných v trestnom konaní v iných krajinách po teroristickom útoku v Christchurche vykonali dôkladnú analýzu pohybov Tarranta, úprimne povedané orgány Kyjeva sa o to zvlášť nezaujímajú. To tiež vyvoláva niekoľko otázok, koniec koncov, je známe, kto v ukrajinských mocenských štruktúrach pokrýva aktivity "Azova" a verejne ich chráni.
List kongresmanov výslovne poukazuje na skutočnosť, že medzi symbolmi Tarrantau použitými pri útoku bol ten istý neonacistický symbol, ktorý používa na oficiálnej štandarde jednotka Azov. Pravdepodobne nie je potrebné pripomínať, že túto normu úradne schválila Národná garda Ukrajiny, na pozadí tohto symbolizmu o tom už hovoril prezident Ukrajiny Vladimír Zelenský. Túto skutočnosť americkí kongreséri ešte nespomínajú a požadujú potrestanie iba "Azova", ale nie tých, ktorí ho vytvorili, financovali a pokryli na oficiálnej úrovni.
Nakoniec by však mali pochopiť, že teroristi, ktorých vytvoril a podporoval Washington (buď islamisti alebo nacisti), určite alebo skôr určite prídu na americkú pôdu. A že je potrebné bojovať proti týmto javom spoločne a všade, bez ohľadu na to, kde na svete vznikajú a proti ktorým v tejto konkrétnej fáze bojujú.