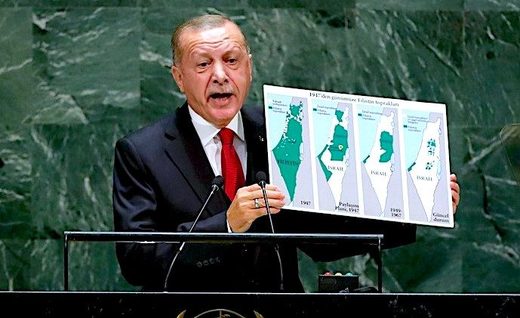 Turecký prezident Recep Erdogan priniesol na Valné zhromaždenie OSN kartónovú mapu znázorňujúcu Izrael, ktorý prevzal palestínsku krajinu, a po celom svete bojujú populistický politici s využívajú protiislamský sentiment na získanie hlasov.
Erdogan v utorok na Valnom zhromaždení OSN tvrdil, že "raketovo stúpajúca rasistická, xenofóbna a antiislámska rétorika" je "jednou z najväčších hrozieb pre svetový mier a stabilitu ". ako aj spoločenstvá normalizujúce nenávistné výroky pod zámienkou slobody prejavu. ""
Where are the borders of the State of #Israel? – #Turkey's #Erdogan to #UNGA pic.twitter.com/JVmkre4bJj

— RT (@RT_com) September 24, 2019
Turecký prezident vyzval svetových vodcov, aby vo svojich krajinách "prijali inkluzívnu a tolerantnú verejnú rétoriku" na riešenie tohto problému. Tiež požiadal OSN, aby 15. marca vyhlásili za "Medzinárodný deň solidarity proti islamofóbii", aby si pripomenul zabitie 51 veriacich v dvoch mešitách v Christchurch na Novom Zélande v roku 2018.
Erdogan si priniesol aj kartónovú mapu Palestíny a Izraela, pričom si techniku ​​požičal z prezentácie izraelského premiéra Benjamina Netanjahua o iránskom jadrovom programe v roku 2012. "Kde začína a končí izraelská krajina?" Erdogan , vytiahol mapu znázorňujúcu zmenšujúcu sa rozlohu palestínskej pôdy, od plánu rozdelenia OSN z roku 1948 až  po súčasnosť.
Hammas oficialne poďakoval : https://detaly.co.il/hamas-blagodaren-erdoganu-vy-zashhitili-prava-palestintsev-v-oon/
https://www.sott.net/article/420976-Erdogan-pulls-a-Bibi-in-his-UNGA-presentation-on-Israeli-expansion-condemns-anti-Muslim-hate-speech