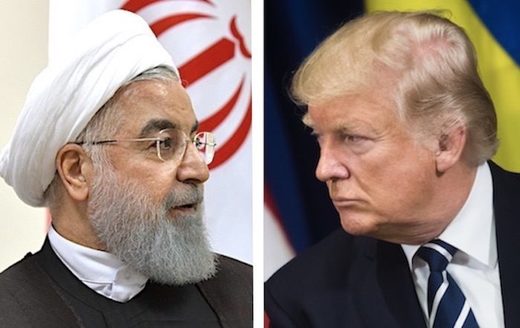 Americký prezident Donald Trump povedal, že "nemá problém s myšlienkou" stretnutia so svojím iránskym kolegom Hassanom Rouhanim. Hovorí sa, že stretnutie by sa mohlo uskutočniť koncom tohto mesiaca na Valnom zhromaždení OSN.
Trump nechal otvorenú možnosť stretnutia počas jednej z jeho tlačových konferencií o vrtuľníku v Bielom dome v pondelok pred odchodom do Severnej Karolíny. "Irán by to mal napraviť, pretože práve teraz sú vo veľmi zlom postavení."
Minister zahraničných vecí Mike Pompeo v nedeľu vyhlásil, že Trump je ochotný stretnúť sa s Rouhanim "bez predbežných podmienok", pretože "nechceme vojnu s Iránom".
Secretary of State Mike Pompeo says President Trump is ready to meet with Iran's Rouhani "with no preconditions," because "we don't want war with Iran," but "it's up to the Ayatollah to made the decision about the direction he wants to take his country." https://t.co/Uvb5WMtzwz pic.twitter.com/OZo9vB4kv0

— ABC News (@ABC) September 8, 2019
Izraelské médiá špekulovali, že let Netanjahua do Londýna, ktorý sa zhodoval s návštevou amerického ministra obrany Marka Espera, mohol byť určený na lobovanie proti summitu Trump-Rouhani.
74. zasadnutie Valného zhromaždenia OSN je naplánované na 17. septembra a na vedľajšej koľaji je možné stretnutie Trump a Rouhani.
https://www.sott.net/article/420165-Trump-says-he-could-meet-with-President-Rouhani-perhaps-at-UN-General-Assembly
http://www.ronpaulinstitute.org/archives/featured-articles/2019/september/10/trump-foreign-policy-as-theater-of-the-absurd/