SÝRSKA ARMÁDA ZOSTRELILA OZBROJENÝ DRON V SEVERNEJ LATTAKII (FOTOGRAFIE)
Sýrska arabská armáda (SAA) zostrelila 15. marca podľa ruskej tlačovej agentúry Sputnik ozbrojené bezpilotné lietadlo (UAV) nad severnou Lattakia.
"Prieskumné a sledovacie jednotky detegovali dron, zatiaľ čo sa snažil priblížiť k pozíciám armády na kopci Abu Ali, bol zacielený a zostrelený s protilietadlovými guľometmi," povedal pre Sputnik vojenský zdroj.
Fotografie zostreleného dronu ukazujú, že je identický s typom používaným pri mnohých útokoch na ruskú leteckú základňu Hmeimim počas minulého roka. Podľa viacerých správ, tento druh UAV používa Hay'at Tahrir al-Sham (HTS), bývalá pobočka al-Káidy v Sýrii.
Začiatkom tohto týždňa ruské lietadlá zničili niekoľko skladov munície patriacich teroristickej skupine v okolí mesta Idlib. Ministerstvo obrany Ruska uviedlo, že vo vnútri skladov sú uložené desiatky ozbrojených dronov.
Zostáva nejasné, ako bola teroristická skupina s obmedzenými zdrojmi schopná navrhovať, vyrábať a prevádzkovať ozbrojené UAV v takom veľkom meradle. Niektorí odborníci sa domnievajú, že HTS dostáva priamu pomoc od zahraničných mocností čo je veľmi pravdepodobné až isté.
Syrian Army Shoots Down Armed Drone In Northern Lattakia (Photos)
V Luganskej republike zostrelili UAV "Katana-Agro"
Vojesko LNR zostreliol na popapnenskom smere  prieskumný dron Katana-Agro UAV, 54. Ombre ukrajinských ozbrojených síl.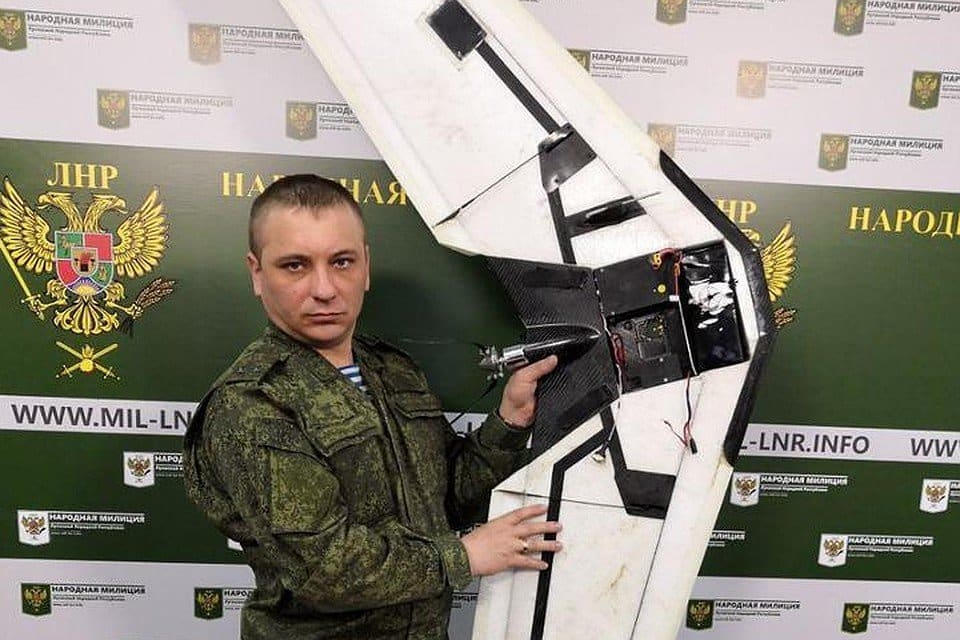 "Katana" bola vytvorená ako vojenský drone, ale vďaka svojim vlastnostiam si našla miesto na poľnohospodárskom trhu.
Dnes Matrix UAV venuje väčšiu pozornosť poľnohospodárstvu. Po poľnohospodársky upravenej "Katane" bola vytvorená ťažká multifunkčná platforma "Commodore", určená na zavedenie v SZR.
"Katana-Agro" je ľahká trieda UAV. Ľahko sa spravuje a udržuje.  Bola vytvorená na princípe "spusti a zabudni". Od operátora sa vyžaduje, aby prstom na obrazovku tabletu nakreslil letový plán, zapol napájanie a spustil UAV. Vzlet, let na trase, vykonanie letovej úlohy, pristátie – zariadenie vykonáva nezávisle v automatickom režime. V tomto prípade operátor nemá možnosť ovládať dron počas letu v manuálnom režime.
"Katana-Agro" má uvedený rozsah v kruhu do 60 km a môže byť vo vzduchu až 80 minút. Náklady na komplex, dvoch UAV, je d
PS UAV pre obrancov Donbass  https://centercigr.livejournal.com/173278.html
UAV sú už realitou modernej vojny a ich efektívne využitie dáva výhodu vojenským jednotkám v obranných a útočných operáciách.
1.  https://centercigr.livejournal.com/152115.html  správa o odoslaní niekoľkých UAV typu lietadla do ozbrojených síl LC.
2.  https://centercigr.livejournal.com/171853.html  malý vrtuľník typu UAV pre jednotky bezpilotných lietadiel Donbassu.
3.  https://centercigr.livejournal.com/155353.html  tu sa popisuje, aké nástroje a UAV sú pravidelne potrebné .
http://cigr.net/glavnoe/28058-v-lnr-sbit-bpla-katana-agro.html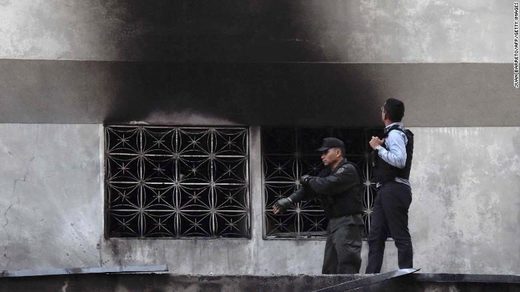 Nové videá, ktoré získala CNN, poskytujú  pohľad na záhadný útok dronom proti venezuelskému prezidentovi Nicolasovi Madurovi v minulom roku – prvý známy pokus na svete zabiť hlavu štátu s maloobchodným dronom, zakúpeným online a vyzbrojený ručne výbušninami vojenskej kvality .
Jeden človek  ako organizátor útoku povedal , že to spáchala skupina odpadlíkov z venezuelskej armády a iní . V exkluzívnom rozhovore  pre CNN, rozprával, ako sa pripravovali na útok, prax z výbušninami a praktickými letmi vo vidieckych farmách Kolumbie.
"Vyskúšali sme každý pokojný a demokratický spôsob, ako ukončiť túto tyraniu, ktorá sa oblieka za demokraciu," povedal pre CNN za podmienky anonymity, keďže sa údajne obáva režimu Madura. "Máme priateľov, ktorí sú vo väzbe a sú mučení. Toto bolo ťažké rozhodnutie."
Uznal tiež, že útok mohol zabiť nevinných civilistov popri ich cieli. "To bolo riziko, ktoré sme museli prijať," povedal.
Samo vyhlásený dočasný prezident Venezuely a opozičný líder Juan Guaido, povedal pre CNN, že nesúhlasí s útokom. 
"Takéto možnosti nie sú dobré," povedal. Dodal, že mal podozrenie, že útok bol zinscenovaný, "Myslím, že to bolo niečo vnútorné, urobené vládou. Skončí to tak, že budú vyzerať ako obete."
Americký poradca pre národnú bezpečnosť John Bolton povedal ráno po útoku, že by mohlo byť falošné poskytnúť vláde Madura "zámienku", možno kvôli tvrdému zákroku. Odvtedy však americkí predstavitelia informovali spravodajskú službu o tom, že CNN verí, že to bol skutočný útok. 
Dva malé drony nad vojenskou prehliedkou vybuchli. Ani jeden z nich nebol dosť blízko na smrteľné škody, hoci bolo sedem členov venezuelskej národnej gardy zranených. Nezranený Maduro neskôr povedal, že si myslí, že výbuchy boli ohňostroje.
Následne boli zatknuté desiatky ľudí, pretože venezuelskí predstavitelia začali vyšetrovanie, aby zistili, kto zorganizoval zdanlivý útok. Niektorí boli mučení čo tvrdia aktivisti, zatiaľ čo iní na vládnom zozname podozrivých zostávajú na slobode. Maduro tiež obviňoval krajne pravicových aktivistov a kolumbijskú vládu, ktorá odmietla akúkoľvek zodpovednosť.
Organizátor útoku povedal pre CNN, že Kolumbia nie je zapojená. Povedal, že útok dronom bol organizovaný skupinou vrátane odpadlíkov venezuelskej armády s cieľom zavraždiť Madura.
Útočník tvrdil, že sa stretol s niekoľkými americkými predstaviteľmi trikrát po tomto  útoku .
Hovorca amerického ministerstva zahraničných vecí odmietol komentovať údajné stretnutia, ale povedal: "Našou politikou je vo Venezuele podpora mierového prechodu ". že sa uskutočnili takéto stretnutia CNN nenašla žiadny dôkaz.
Plán bol zmarený strážcami, ktorí spôsobili, že drony predčasne vybuchli, povedal útočník. Blokátory signálov mobilných telefónov, ktoré chránia prezidenta, spôsobili rušenie a tým spôsobili výbuchy. 
Správa venezuelskej vlády o útoku, ktorú poskytol minister vnútra,vrátane letových dráh letúnov.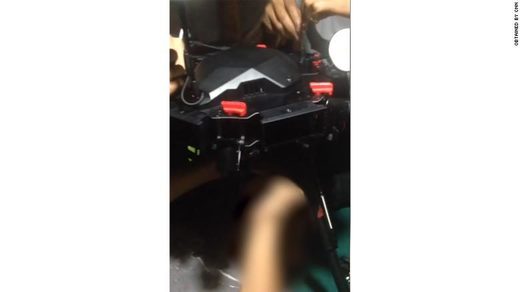 Vo videách, ktoré terrorista poskytol CNN, môžete počuť mužov, ktorí ss sťažujú, že skrutky sú príliš malé a je ťažké čítať čínske nápisy na krabičkách.
Videá tiež ukazujú skupinu praktizujúcu zložité manévre: lietajúc dronmi dostatočne vysoko na to, aby sa vyhli detekcii, a potom prudko dole v strmom uhle, aby udreli do cieľa. Pracujú v rôznych scenároch: uprostred zelených kopcov nad bazénom, vypustených z okna auta, pod krytom noci.
Neskôr demontovali stroje, a prepašovali cez hranice do Venezuely. Akonáhle sa vrátili do svojej vlasti, pomaly zostavili dva drony určené na likvidáciu prezidenta Madura.
Príklad použitia komerčných dronov ISIS v Sýrii.
foto zhadzovač granátov na drone DJI
https://www.youtube.com/watch?v=WeQrhhE7VM4
Problematiku dronov sme riešili v reláciách Casus Belli :
všetky relácie Casus Belli možno počúvnuť TU: