História lietadiel typu Boeing B-737 je dlhá a pestrá, je to bezpochyby najrozšírenejšie dopravné lietadlo na svete, s bohatou štatistikou z prevádzky. Aj napriek nevýraznému vzhľadu a veľkosti oproti takým typom ako B-747 alebo Airbus A380 ich bolo vyrobených viac ako 10 tisíc kusov štyroch generácií. Každým okamihom je vo vzduchu zemegule naraz okolo 1200 kusov a v súčasnosti je až 25% všetkých dopravných lietadiel na svete typu B-737. Preto môžeme s istotou konštatovať, že jeho prevádzkové a letové vlastnosti sú čitateľné, známe a tým aj predvídateľné, z čoho vyplýva vysoká prevádzková bezpečnosť.
Ale ako by český brat povedal : Chybička se vloudí..

Po havárii v Etiópii boli lety Boeingu 737 generácie MAX 8,9 a 10 zakázané vo väčšine krajín sveta, vrátane Spojených štátov, a asi 30 leteckých spoločností -prevádzkovateľov tohto typu  ho odmietlo v súčasnosti prevádzkovať. Aj keď sa dopravnému lietadlu typu B737 MAX predpovedal obrovský komerčný úspech, momentálne sa stal nočnou morou pre jeho tvorcov, vyvolávajúc predstavy lietajúcej rakvy, ohrozujúcej životy cestujúcich a lietajúci personál, čo by nebolo spravodlivé vzhľadom na jeho históriu.
–
Pre pilotov, ktorí sa dostali k informácii, prečo zrejme havaroval B737 MAX 8 spoločnosti Lion Air, určite nebol príjemný pocít pilotovať tento typ, lietanie by bolo možné nazvať "adrenalinové".
10. marca, šesť minút po vzlete do Etiópie, havarova Boeing 737 MAX 8 najnovšej generácie prevádzkovaný spoločnosťou  Ethiopian Airlines na trati z Addis Abeby do Nairobi. Na palube lietadla bolo 149 cestujúcich a 8 členov posádky. Boohužiaľ všetci zahynuli. Podľa dostupných údajov, krátko po vzlete, posádka etiópskej leteckej spoločnosti sa stretla s metúcimi údajmi o rýchlosti a uhle nábehu lietadla a komplikáciou s ovplyvňovaním letu vplyvom nového automatického systému zábrany pádu lietadla. Lietadlo začalo náhle klesať, napriek pokusom o udržanie výšky sa lietadlo zrútilo. Pri prudkom klesaní nabralo takú rýchlosť, že sa nárazom o zem roztrieštilo na malé kúsky, čiernu skrinku sa podarilo vykopať až z 20 metrovej hĺbky a telá osôb na palube nebolo možné identifikovať.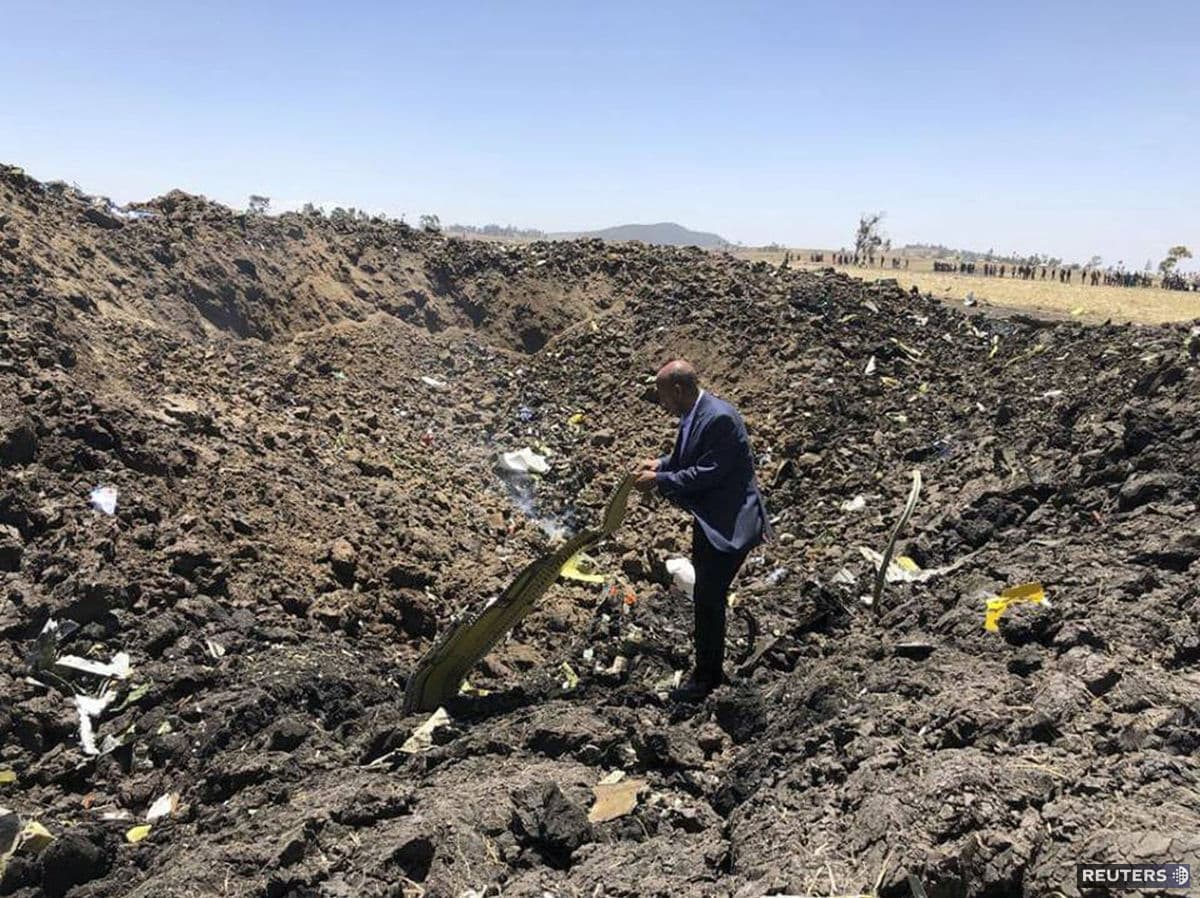 Definitívne závery o príčinách katastrofy ešte neboli vykonané, ale je pravdepodobné, že lietadlo kleslo kvôli rovnakej poruche ako lietadlo indonézskeho dopravcu Lion Air 29.Októbra 2018.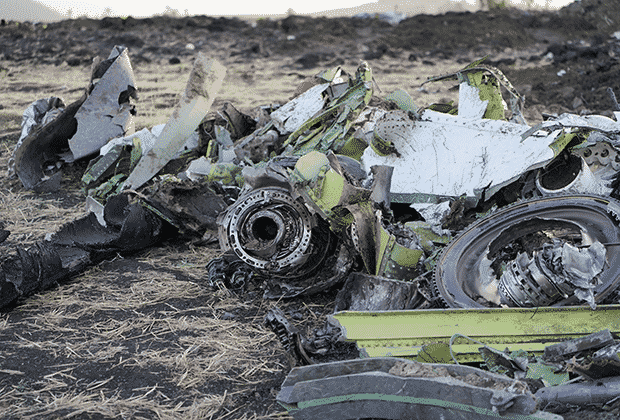 V prípade Indonézskeho lietadla ďeň pred pádom hneď po vzlete, elektronika Boeingu začala robiť jednu chybu za druhou. Všetko to začalo problémami s rôznymi hodnotami zobrazovanej rýchlosti na letových prístrojoch veliteľa lietadla a druhého pilota. Potom sa stabilizátor spontánne začal vychyľovať, čo ovplyvňovalo stabilitu a výšku letu, čo muselo mať vplyv aj na rýchlosť letu, a "barany" pilotov sa začali triasť, ako pri varovaní pádovej rýchlost, keď hrozí nebezpečenstvo straty vztlaku a pádu lietadla.
Let Addis Abeba – Nairobi je považovaný za dostatočne krátky pre 737- MAX 8. Napriek tomu, že v nádržiach bolo málo paliva, neboli obsadené všetky miesta v kabíne a lietadlo preto nemohlo byť preťažené. Dopravné lietadlo za päť a pol minúty vystúpalo do výšky troch kilometrov, avšak potom začalo klesať.
Pilotom sa podarilo znovu získať kontrolu nad strojom vypnutím elektrického ovládania stabilizátora lietadla. Let bol úspešne dokončený, ale posádka v palubnom denníku neuviedla informácie o problémoch s údajmi o rýchlosti a komplikáciou s elektronikou riadenia stabilizátora. Po pristátí došlo k výmene posádky a nová posádka po vzlete z Jakarty čelila rovnakým problémom, ale nevypla elektronickú kontrolu stabilizátorov, takže lietadlo prudko klesalo a havarovalo. Zahynulo 189 cestujúcich.
Príčinou problému sa vtedy stal systém MCAS (Maneuvering Characteristics Augmentation System) – systém na kontrolu vlastností manévrovania lietadiel), ktorý sa snaží zabrániť dosiahnutiu pádovej rýchlosti a tým aj pádu lietadla potlačením výškového riadenia dopredu a uvedením lietadla do klesania aj v prípade, keď je autopilot vypnutý.
Údaje o pre vyhodnotenie rizika pádu lietadla získava systém MCAS okrem údajov o indikovanej rýchlosti aj informáciu o uhle nábehu z dvoch snímačov, ale systém reaguje zásahom do riadenia lietadla pre zábranu pádu aj v prípade, keď o dostáva informáciu iba z jedného zo snímačov. Automatika MCAS začína brániť aktivite pilotov pritiahnúť riadenie a previesť lietadlo do stúpania, ak vyhodnocuje nebezpečenstvo pádu a v prípade zásahu pilota proti vôli systému MCAS, elektronika po piatich sekundách opäť prevezme kontrolu nad riadením.
V prípade falošných údajov zo senzorov bude systém MCAS vydávať zmetočné pokyny pohonom riadenia a nebude rešpektovať  zásahy pilotov, kým sa systém samotní piloti nevypnú. To je zjednodušený popis situácie, ktorá nastala na palube B737 MAX spoločnosti Lion Air.
Je nepochopiteľné, že podľa The Wall Street Journal zástupcovia Boeingu neinformovali pilotov o tejto situácii, aby "neboli preťažení informáciami".
Po októbrovej katastrofe Boeing vydal pokyn, v ktorom podrobne opísal činnosť posádok v situácii podobnej situácii v Indonézii. Pravdepodobne neskúsená posádka jednoducho nedokázala zvládnuť výskyt viacerých chýb a zmetočnej činnosti automatiky riadenia lietadla naraz.
Katastrofám v Etiópii by sa zrejme dalo predísť, ak by v Seattli mal čas pripraviť novú verziu softvéru lietadla. Podľa pôvodného plánu by mal byť softvér distribuovaný už v Januári, ale vývoj sa oneskoril a prevádzkovatelia B737 MAX ho dostanú až v Apríli. Je pravdepodobné, že prevádzka lietadla typu B737 MAX lietadla bude dovtedy zakázaná.
Je takmer isté, že problém so systémom MCAS výrobca úspešne vyrieši, inak by mu hrozil krach, pretože má objednávky na viac ako 4000 kusov najnovšej generácie.  Ale životy cestujúcich a posádky minimálne z katastrofy letu z Addis Abeby do Nairobi by boli zrejme zachránené, ak by zodpovedný manažment spoločnosti BOEING "trochu viac pohol zadkom"…a urýchlene zabezpečil odstránenie chýb v systéme MCAS a doporučil doplnkové výcviky pilotov pre typ B-737 verzie MAX na simulátoroch so zameraním na netypické správanie systému MCAS za letu. Doterajšie preškoľovanie posádok prebiehalo veľmi skráteným programom, pretože výrobca považoval najnovšiu generáciu MAX za identickú s predchádzajúcou generáciou NG (New Generation) z hľadiska samotnej pilotáže.
Pohľad do pilotnej kabíny B-737 MAX je technologicky vyspelá, prehľadná.
Avšak pravdou je aj to, že vo verzii MAX pribudol systém MCAS, ktorý v predchádzajúcich generáciach lietadla B-737 nebol implementovaný, a je to teda novinka, na ktorú pilot neboli zvyknutí.
Keďže v súčasnosti nie je potvrdené, či havária letu Ethiopian Airlines bola spôsobená systémom MCAS, ostáva dúfať že sa táto príčina potvrdí. Pretože ak nie, a bola by to závada na systémoch alebo konštrukcii nového krídla lietadla, tak to by bola iná káva a dlhodobé odstavenie prevádzky lietadiel generácie B-737 MAX  by spôsobilo pohromu jak prevádzkovateľom tohto typu lietadla tak aj výrobcovi – spoločnosti BOEING.