NATO a EÚ sú zdrojom "bezpečnosti a prosperity" alebo
S USA  NA  VEČNÉ  ČASY  A  NIKDY  INAK  !!

Po spoločných hrdých a slušných vyhláseniach cez víkend v Poľsku premiérom Slovenska, že NATO a EÚ sú zdrojom bezpečnosti a prosperity (nedefinoval však, koho)  a vstup do EÚ a NATO  dodnes nemá inú realistickú alternatívu  je zaujímavé sledovať, že po podpísaní bezprecedentného kontraktu na viacúčelové neexistujúce nadzvukové lietadlá F16 Block70/72 za trojnásobnú cenu s nedoziernymi negatívnymi následkami na bezpečnosť a značné ochudobnenie financií Slovenska sa opakuje "komédia" podobná, ako pri podpise nákupu nadzvukových lietadiel F-16.
Podľa správy z TA3 Slovenské ministerstvo obrany ukončilo rokovania s USA o možnej 105-miliónovej investícii do slovenských vojenských letísk. Informovala o tom RTVS. Stalo sa to po tom, ako šéf koaličnej SNS Andrej Danko v TA3 uviedol, že národniari v prípade prijatia peňazí od Američanov odídu z koalície.
Zaujímavý je pritom fakt, že o americkej investícii do slovenských vojenských letísk rokujú zástupcovia ministerstva obrany už dlhodobo za výdatnej pomoci ministra zahraničia v demisii Miroslava Lajčáka.
Nemôžem si odpustiť nepripomenúť podobnú scénu premiéra Pelegríniho, keď tak trocha trucoval, keď zneplatnil podpis zmluvy ministerstvom obrany SR na kúpu F16 so slovami, že zmluvy môžu skartovať, citujem :
""Môj pokyn znel, nie len nepodpísať, pokiaľ nie sú na stole súhlasy ministerstva financií. Povedal som, že chcem aj vedieť, akým spôsobom bude fungovať spätné plnenie v spolupráci s Leteckými opravovňami Trenčín, a že chcem vedieť, ako je dorokovaná ďalšia zmluva so Spojenými štátmi americkými, ktoré chcú pomôcť zrekonštruovať letisko Sliač a Kuchyňa. Toto som dal ako jasný pokyn,"
To znamená, že nie je vyriešený offset (rozumej nákup tovarov a služieb zo strany USA alebo iné investície na Slovensku ako protihodnotu za nákup F-16 v objeme približujúcemu sa hodnote kontrahovaných stíhačiek), podmienky ktorého sa obvykle negociujú (prebiehajú obchodno-technické rokovania) pol roka až rok ale premiér Speedy Pellegríni pracoval 36 hodín denne a vyriešil všetky nezrovnalosti.
Za týždeň sa kontrakt na nákup "stíhačiek"  podpísal.
Určite bude zaujímavé sledovať, kedy predseda parlamentu kpt. Danko "dostane rozum" a súhlas s modernizáciou  slovenských vojenských letísk  – rozumej definitívnym obsadením slovenských vojenských letísk schváli.
Takže, slovenskí budúci piloti, ako správni "kamikadze" obsluhujúci na diaľku čiastočne kontrolovateľné stíhačky F-16 z veliteľského stanoviska USA  alebo NATO  budú zrejme zanedlho pristávať na území Slovenska iba na Amerických leteckých základniach.
Alebo sa stane zázrak, pán Danko ??
Existuje tu určitá pravdepodobnosť, že "preceda" Danko už vníma obdobie zvolebnievania sa a potrebuje na dobu do skončenia parlamentných volieb ukázať, aký je veľký národniar, Držíme mu place, aby mu to vydržalo aspoň do tých volieb … Hrdo, odborne a slušne. A vieme, ako to dopadlo.
Dobrá správa pre NATO hujerov – Americké a NATO stíhačky sú na vojenskom letisku Kuchyňa už minimálne 10 rokov temer nepretržite. Iba akože pre využívanie leteckej strelnice na Záhorí.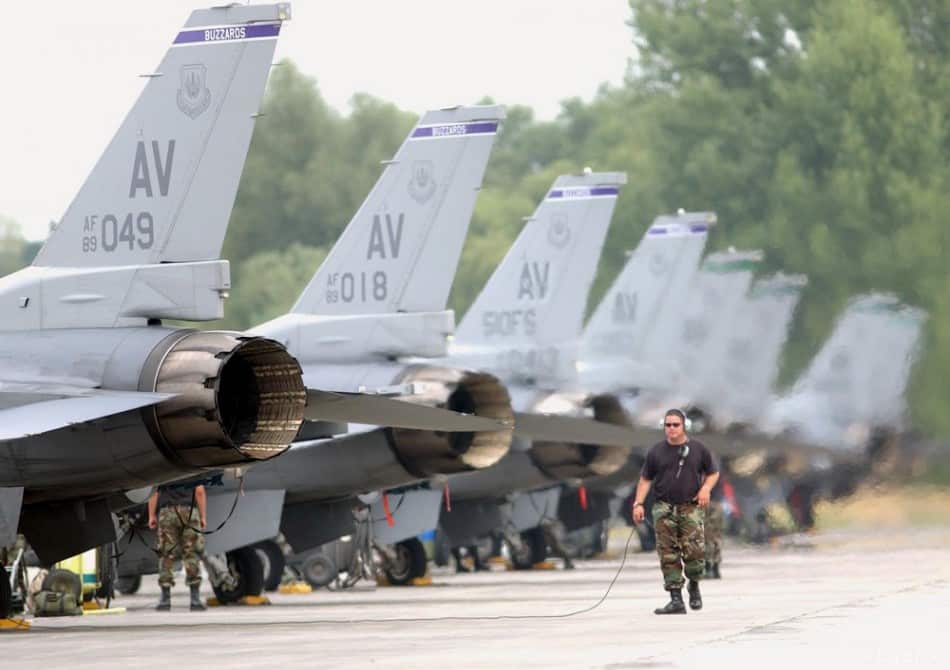 Letisko Kuchyňa – cvičné streľby na leteckej strelnici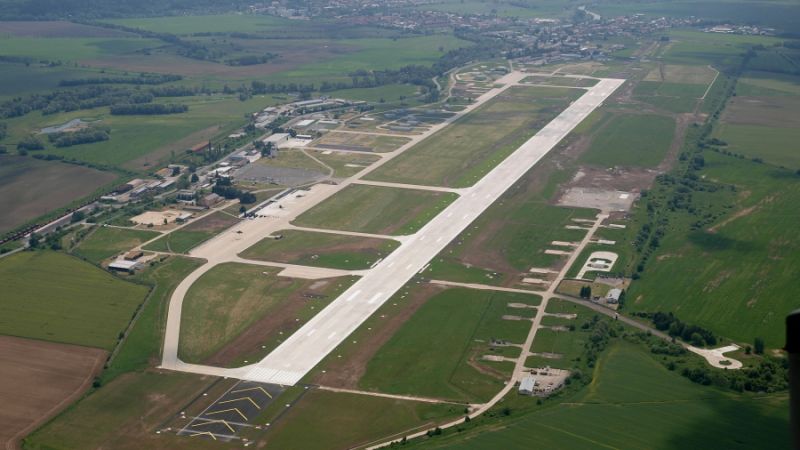 letisko Sliač
predtým sme písali:
USA plánuje postaviť na Slovenskom území v roku 2019 sklad USA zbraní za 59 milionov dolárov.