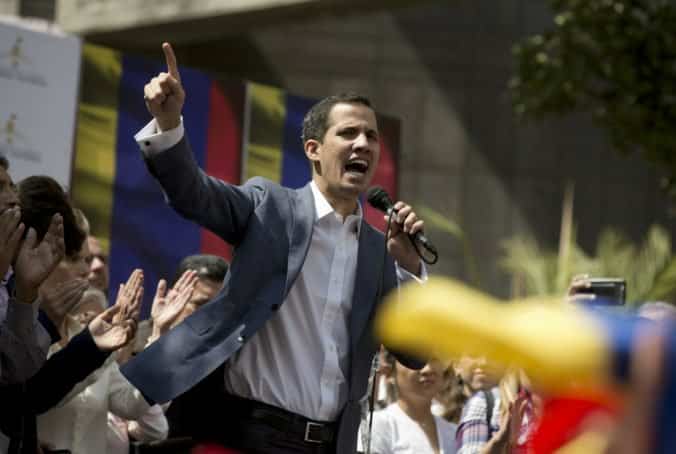 9. februára th , USA-vyhlásený venezuelský dočasný prezident #Macrobama Juan Guaido povedal, že nevylučuje že povolí americkú vojenskú intervenciu v krajine.
Ppovedal, že má stálevieru vo venezuelské ozbrojené sily.
"Ozbrojené sily majú obrovskú dilemu, či  prijímať pomoc z USA alebo nie. Bolo by takmer nešťastné v tomto momente obrovskej nevyhnutnosti, aby to neprijali, "povedal.

"Zákaz vstupu tejto pomoci môže byť považované za zločin proti ľudskosti."

Guaido povedal, že armáda sa musí rozhodnúť, či "sa postaví na stranu ústavy", alebo "pokračuje na strane čoraz izolovanejšieho diktátora".
Ďalej povedal, že "strach" im zabraňuje , aby viacerí špičkoví členovia ozbrojených síl prešli su generálovi letectva generálovi Francisco Yanezovi, ktorý minulý víkend odmietol Madúra.
"Videli sme niektorých seržantov Národnej stráže, ktorí ukázali ich nešťastie a sú mučení. Jeden zo seržantov zmizol. "
Dostal okamžitú odpoveď na Twitteri od republikánskeho senátora a člena Výboru pre ozbrojené sily, Ro Khanna.
"Pán. Guaido, môžeš sa vyhlásiť za vodcu vo Venezuele, ale nemôžeš povoliť americké vojenské zásahy. Iba Kongres USA to môže urobiť. . https://t.co/rbPldFOnOZ

– Ro Khanna (@Rokhanna) 9. februára 2019 "
Khanna tiež okomentoval, to že vláda Trumpa uznala Guaida za dočasného prezidenta.
"Spojené štáty by nemali podporovať vodcu opozície vo Venezuele počas ich vnútorného konfliktu," povedal Khanna vo vyhlásení minulý mesiac. "Niet pochýb o tom, že Maduroova hospodárska politika bola hrozná a že sa zapojil do zlého hospodárenia a tiež politického autoritárstva. Ale zmrzačujúce sankcie a hrozby vojenskými akciami zhoršujú život obyčajných Venezuelanov. "

https://www.france24.com/en/20190209-venezuela-guaido-not-rule-out-authorising-us-intervention
Komentár ku Venezuele od Pepe Escobar: https://www.strategic-culture.org/news/2019/02/01/venezuela-lets-cut-to-chase.html
problémy z elektrinou pri Madurovom prejave.