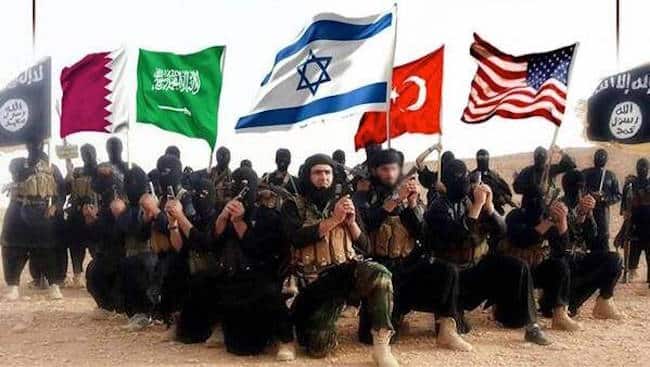 Roky popieral Izrael obvinenia, že má úlohu pri financovaní a vyzbrojovaní povstania proti Assadovi v Sýrii a čoraz častejšie vojenskí predstavitelia odpovedali "bez komentára" a to aj vtedy, keď sa stretli s drvivými dôkazmi o izraelských zbraniach zdokumentovaných v rukách rebelov spojených s al-Káidou , ale to všetko sa zmenilo v novom rozhovore britského  Sunday Times s odchádzajúcim veliteľom izraelskej armády Gadi Eisenkotom, ktorý konečne potvrdil, že izraelské obranné sily (IDF) dodávali zbrane rebelom cez hranice "na sebaobranu", a čo je zaujimavejšie , pripustil, že dlho vedú "neviditeľnú vojnu v Sýrii",  ktorá zahŕňala "tisíce útokov" .
Tento rozhovor je prvýkrát, čo všetci súčasní špičkoví izraelskí vojaci alebo vládni predstavitelia plne uznali, že posielajú niečo nad rámec "humanitárnych dodávok", ako je zdravotná pomoc sýrskym militantom, ktorí sa snažia zvrhnúť vládu Assada  a napriek tomu sa stále zdá, že vojenský šéf krajiny pomaly potvrdzuje a uznáva že IDF poskytuje "ľahké zbrane"  –  a po rokoch definitívne odhalil rozsiahly izraelský program o dodávkach zbraní pre desiatky povstaleckých skupín a platenie ich platov vrátane známych skupín ako al-Káida a ich odnože v Sýrii .
Toto sa stalo potom, ako Sýrska vláda už niekoľko rokov obviňuje Izrael, že partnerstvom so západnými krajinami a krajinami v Perzskom zálive, ako sú USA, Spojené kráľovstvo, Saudská Arábia, Katar a Turecko, financovali a vyzbrojovali povstanie al-Káidy / ISIS ako súčasť operácií v tajnom režime zamerané na Damašk a jeho spojencov ako Irán a Hizballáh. Odvtedy sa krajiny ako Katar dostali k tomu, aby odhalili, aká veľká bola ich skrytá úloha pri podpore sýrskej vojny.
V šokujúcom rozhovore Katar ukazuje tajomstvo sýrskej vojny .
Veliteľ štábu IDF Gadi Eisenkot.
V článku od The Sunday Times zverejnili kľúčovú spoveď, generála Gadiho Eisenkota takto :
Eisenkot po prvýkrát uznal, že Izrael dodal do pohraničnej oblasti povstaleckým skupinám ľahké zbrane "na sebaobranu" .

Izrael bol skrytý hráč na preplnenom sýrskom bojisku .
Eisenkot sa v rozhovore, pozitívne chválil, keď hovoril  "sme v boji v oblasti kontrolovanej Rusmi, kde sa niekedy útočí na ciele kilometer alebo dva od ruských pozícií ", aby sme sa dostali ku Iráncom v Sýrii.
Táto zriedkavá "spoveď" sa objavila v momente, keď Biely dom uviedol, že pokračuje v stiahnutí zo Sýrie, čo rozhorčilo vedenie Izraela, ktoré tvrdilo, že Irán ich obklúči až pri hraniciach , Eisenkotove slová sa javia ako varovanie Iránu, že cieľom Tel Avivu je udržať operačnú schopnosť v Sýrii.
Šéf IDF pripustil "tisíce" útokov v Sýrii :
"Vykonali sme tisíce útokov [v posledných rokoch] bez toho, aby sme prevzali zodpovednosť a bez nároku na odpoveď," povedal pre Sunday Times.
Vzhľadom na to, že bývalí vojenskí predstavitelia zvyčajne uvádzajú tieto čísla na stovky, často od 200 do 400, je to ohromujúci prístup, ktorý potvrdzuje, že Izrael a Sýria sú de facto v stave otvorenej vojny od prvého uznaného izraelského náletu v roku 2013 .
The Times of Israel zhrnul časový rozvrh podpory Izraela na povstanie proti Assadovi nasledovne :
Foreignpolicy.com uviedlo, že podpora ozbrojených skupín zo strany Izraela začala v roku 2013 a to financovanie skupín na miestach ako Quneitra a Daraa. Toto leto sa to skončilo, keď Assadove sily pokročili a zvýšili zisky pôdy v južnej Sýrii voči rebelom / umierneným terroristom. Sýrsky prezident Bashar Assad získal v júli kontrolu nad celou pohraničnou oblasťou.

Sýrska armáda  v roku 2013 vyhlásila  , že zajala v rukách rebelov ​​izraelské zbrane  .

V správe sa uvádza, že Izrael poslal zbrane povstalcom, čo zahŕňalo útočné pušky, guľomety, raketomety a vozidlá . Spočiatku posielali rebelom americké pušky M16, ktoré by neoznačili Jeruzalem ako zdroj a neskôr začali dodávať zbrane a muníciu z iránskej zásielky libanonskej skupine Hizballáh, ktorú Izrael zachytil v roku 2009 . Ale množstvo analytikov naznačilo, že izraelská podpora opozície sa začala ešte skôr ako začial konflikt.
Z predchádzajúceho  vyšetrovania Wall Street Journal sa  zistilo, že tento vzťah  zahŕňa  transfery zbraní, platby platov bojovníkom proti Assadovi a ošetrovanie ranených džihádistov v izraelských nemocniciach, ktoré boli vo veľkej miere  propagované  kde sa   uvádzalo, že samotný Netanjahu pozdravil militantov v nemocnici.  Ako dokonca bývalý výkonný riaditeľ CIA Michael Morell raz  priamo povedal izraelskej verejnosti ,  izraelská "nebezpečná hra" v Sýrii spočíva v tom, že sa dostanú do postele s al-Káidou, aby bojovali proti šíitskému Iránu. 
Telegraf v januári uviedol, že podľa sýrskeho prezidenta Bashara Assada sa v Sýrii dokonca vtipkuje. "Ako môžete povedať, že al-Káida nemá leteckú silu? Majú izraelské letectvo.
V posledných rokoch  niekoľko súčasných aj bývalých izraelských vojenských úradníkov  je už tak ďaleko, že hovoria, že  ISIS je v konečnom dôsledku výhodnejší ako Irán alebo Asad . Napríklad bývalý izraelský veľvyslanec v USA Michael Oren v roku 2014 prekvapil publikum na Aspen Ideas Festival v Colorade, keď povedal v  komentároch týkajúcich sa ISIS,  že "sú menšie zlo ako sunniti alebo šíti." Oren, tým vyjadril izraelskú obrannú politiku, čím úplne uznal, že si myslí, že ISIS je "menej zlé".
Podobne aj pre Netanjahua a ďalších izraelských predstaviteľov nebolo hlavným záujmom kult smrti, ktorý si filmovali keď pálili ľudí zaživa, ale je tu možnosť, podľa  slov Henryho Kissingera, vytvorenia iránskej radikálnej ríše "od Teheránu po Bejrút .
Čo je už jasné Izraelské vedenie už roky ukrývaio svoju "skrytú ruku" v tejto proxy vojne, zatiaľ čo predstierali len "humanitárnu pomoc"  – niečo, čo teraz plne pripúšťa aj izraelský vrchný vojenský veliteľ. Inými slovami, humanitárna dymová clona bola krytím pre tajnú vojnu proti Damašku.
Ďalšia "konšpiračná teória" sa dnes stáva nesporným faktom .
Zdroj:
https://www.zerohedge.com/news/2019-01-14/israels-top-commander-finally-admits-role-syrias-invisible-war
https://www.timesofisrael.com/report-israel-armed-rebels-in-south-syria-for-years-in-effort-to-block-iran/