Osvobození Aleppa znamená konec pokusu svrhnout vládu Syrské arabské republiky. Bylo to možné pouze díky odstoupení Kataru a částečné změny pozice Turecka. Avšak část Sýrie je pořád obsazena džihádisty ve službách NATO. Další vojenské vítězství a konec války proto závisí na tajných jednáních, která teprve začínají mezi členy Severoatlantické aliance.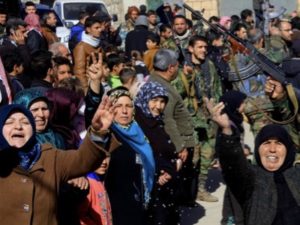 Osvobození východního Aleppa Syrskou arabskou armádou bylo možné pouze proto, že zahraniční účastníci jednání akceptovali zastavení podpory džihádistů. Jejich ústup nemohl být vyjednán Syrskou arabskou armádou, ale pouze Ruskou federací.
Moskvě se podařilo obrátit Katar a udělat z něj spojence. Změna katarského postoje byla na začátku prosince v Dauhá zpečetěna moskevským prodejem jedné pětiny základního kapitálu Rosněftu. Rosněft, klenot v ruské koruně, je největší společností na světě. Realizací této transakce, údajně s cílem finančně zachránit deficit státního rozpočtu Ruska, Igor Setchine a Vladimir Putin už neoddělitelně sjednotili politickou sílu dvou největších vývozců plynu na světě. Katar fakticky pustil džihádisty k vodě, když se na konci května zbavil permanentní kanceláře na vedení NATO v Bruselu.
Další revolucí je ta turecká. Zatímco jako stát zůstává Turecko členem NATO, jeho prezident Erdogan se stal osobním nepřítelem Washingtonu. V souvislosti s všeobecnými volbami v USA se Moskva opřela o Erdogana za účelem prolomení vazeb mezi Spojenými státy a Tureckem.
Přestože se jedná o složitý obrat, který může zabrat nějaký čas, stačilo to zpanikařit Tel-Aviv, který nařídil atentát na velvyslance Andreje Karlova v Ankaře – vraždu, která byla řádně schválena a oslavována New York Daily News, čtvrtým největším deníkem v USA a veřejným dorozumívacím systémem té nejtvrdší ze sionistických lobby. Tel-Aviv ten samý den také možná nařídil střelbu v Moskvě, při které zahynul ředitel latinskoamerické kanceláře ruského ministerstva zahraničních věcí Petr Polšikov.
Po prvotní krátké úvaze, že by Karlovova smrt mohla být součástí Erdoganovy dvojité hry – vrah byl jedním ze členů jeho ochranky – si Moskva uvědomila, že tomu tak zřejmě nebylo. Vladimir Putin proto posílil bezpečnost Ruska a jeho zástupců v zahraničí. Tato epizoda mimochodem svědčí o skutečnosti, že navzdory zdání už prezident Erdogan není pánem vlastního domu.
Zadržení zahraničních pracovníků NATO v bunkru ve východním Aleppu ilustruje vývoj konfliktu. Zadržení muži byli hlavně Britové, Američané, Francouzi, Saúdové a Turci. Zveřejněním neúplného seznamu čtrnácti jmen postavil velvyslanec Bašár Džaafarí NATO přímo do čela zodpovědnosti – velmi odlišný přístup, než ten z února 2012, kdy se Sýrie zabývala dvoustrannými jednáními s Francií a Tureckem během obléhání islámského emirátu Baba Amr. Tehdy vrátil Damašek asi čtyřicet tureckých a dvacet francouzských důstojníků jejich původním armádám, buď zprostředkováním Michaila Fradkova (ředitele ruských zpravodajských služeb), nebo přímo přes admirála Eduarda Guillauda (francouzského náčelníka štábu) na libanonské hranice. Ale dohoda, která byla uzavřena s prezidentem Nicolasem Sarkozym, nebyla respektována jeho nástupcem, Francoisem Hollandem.
Existence bunkru NATO ve východním Aleppu potvrzuje to, co jsme říkali o úloze LandCom NATO v koordinaci džihádistů z Izmiru. Ale Atlantická rada, nejvyšší orgán Severoatlantické aliance, nedala této operaci nikdy zelenou. Stejně jako v případě útoku na Tripolis (Libye) v srpnu 2011, použil Washington systémy NATO, aniž by některé jeho členy informoval. Takto použil Rumsfeldovu doktrínu, podle které už kolem Spojených států neexistuje permanentní koalice, ale existují pouze koalice na zakázku, v souladu s cíli vybranými Washingtonem.
Osvobození Sýrie by mělo pokračovat v Idlibu. Ten je obsazen hordou džihádistických skupin bez společného velitele. Vzhledem k tomu, že tyto skupiny nejsou schopny prosadit své vlastní zájmy, tím méně zájmy civilního obyvatelstva, zóna je de facto řízena NATO skrz řetězec pseudo-nevládních organizací. Tak to bylo alespoň uvedeno minulý měsíc americkým think-thankem. K porážce tamních džihádistů bude v první řadě nutné odříznout jejich zásobovací trasy, jinými slovy uzavřít tureckou hranici. To je to, na čem právě pracuje ruská diplomacie.
Překlad
Messin
Zdroj
Al-Watan(Sýrie)