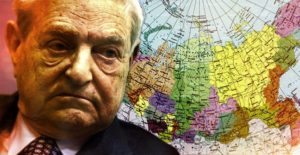 Ruská armáda sa zaoberá spôsobmi prevencie a boja proti "farebným revolúciám".
Táto téma bola ústrednou počas stretnutia akadémie vojenských vied za účasti podpredsedu vlády Dmitrija
Rogozina, a z generálneho štábu Valerij Gerasimov, rovnako ako množstvo odborníkov z Akadémie a spolupracovníkov.
Podľa účastníkov ide o akcie ako počítačové útoky a nábor nových členov, ktorá sa vykonáva pomocou sieťových
štruktúr čo by malo byť považované za podvratné.
S cieľom bojovať proti nim, sa musí vypracovať koncepcia "soft power".
Príkladom tohoto pojmu je prístup zo strany Ruska počas jeho raných fáz zapojenie sa v Sýrii, najmä
diplomacia i nevojenské metódy.
Gerasimov povedal, že v rusku veria že "farebné revolúcie" môžu byť súčasťou hybridnej vojny, ako ekvivalent k
prevratu.
Gerasimov bol podporovaný členom Academie Andreyom Manoilom:
on sa pozerá na "farebné revolúcie" ako na vážnu hrozbu a nábor jej priaznivcov by mal byť potrestaný ako diverzná činnosť
voči štátu.
"Tieto sieťové štruktúry sú rovnaké ako tie, ktoré používajú teroristi.
Ruské MOD má skúsenosti, nahromadené na severnom Kaukaze a iných nedávnych konfliktoch, a môžu byť efektívne
využité v boji proti takýmto akciám.
Dmitriy Gâvre, politológ a sociológ, sa domnieva, že pojem "mäkká sila" bola vyvinutá dávno a to ako pre
domáce i medzinárodné použitie, a prostriedky na jej uplatnenie sú zakotvené v politických systémoch.
Sme svedkami toho že Štátna duma uzatvára medzery, ktoré by mohli viesť k nekontrolovanej destabilizácii. "
Podľa Gâvreho, stav stability je kvôli zavedeniu spoločenskej zmluvy medzi orgánmi a obyvateľstvom, a to je založené
na dôvere.
"Akonáhle sa tenká tkanina dôvery začne trhať, objavujú sa zóny, ktoré môžu byť vyplnené destabilizujúcimi vplyvmi,
" verí Gâvre.
"Čo teda" mäkkú silu "predstavuje v takomto prípade?
Je potrebné vypracovať postupy pre nábor smerom nahor z najtalentovanejších
predstaviteľov nízko-stavových skupín, vrátane etnických menšín. "
Gavro tiež verí, že uzavretý informačný priestor iba uľahčuje extrémistické nálady.
"Mali by sme odmietnuť tvrdú cenzúru priestoru médií.
Spôsob, ako vyjadriť opozičné názory vo verejnej aréne, namiesto podvratnej činnosti.
Treba pridať špeciálne internetové komunikačné pravidlá, a tiež osloviť mladé publikum.
pepe       orig. warfiles.ru