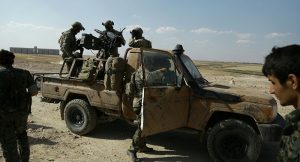 Je to veľmi zaujímavé a napriek tomu vážne, USA oznámilo operáciu "Eufrat Anger", ktorú majú vykonávať sýrske demokratické
sily (SDF) čo je koalícia rôznych US podporovaných milícií, aby obsadili mesto Raqqa, súčasné hlavné mesto islamského štátu v Sýrii.
Hoci toto oznámenie prišlo len tri týždne po začiatku operácie oslobodenia mesta Mosul, hlavného mesta IS v Iraku, vyzerá to ako
" logický "vývoj, ale na oslobodení Raqqa je oveľa viac práce než by sa na prvý pohľad zdalo.
Táto operácia je prezentovaná čisto anti-IS a je zameraná na symbolickú porážku skupiny tým, že obsadia ich hlavné mesto.
V skutočnosti je však táto operácia zameraná na posilnenie amerikou podporovaných sil v Sýrii a týmto prerušiť boj sýrskej armády o
Aleppo.
Zoberme do úvahy toto: Podľa Bretta McGurka čo je vyslanec amerického prezidenta Baracka Obamu na boj proti islamskému štátu,
je hlavná myšlienka opätovného obsadenia Raqqa zo strany SDF takáto:
Keď príde na Raqqa chceme silu, ktorá nakoniec uvoľní Raqqa, a preto sme vyškolili mnoho bojovníkov a sila bude aj naďalej rásť,
až potom sa dostaneme do následných fáz kampane.
Prichádza relevantná otázka, ktorá tu vyvstáva, : V prípade, že USA naozaj vážne zapoja miestne sily na oslobodenie mesta
Raqqa, ktorá iná sila by mohla byť lepšia a viac "lokálna", ktorá má oprávnenie miestnej základne, než vlastná Sýrska armáda, ktorá
v súčasnej dobe bojuje proti ostatným skupinám v meste Aleppo?
Samozrejme, že USA a ich spojenci nechcú mať sýrsku armádu ako svojho spojenca, a ani nechcú, aby vyzerali ako osloboditeľia.
Ich cieľom je udržať Sýriu ponorenú do konfliktu, a konečným cieľom je zničenie sýrskej armády a demontáž Asada ako prezidenta a to je možné splniť iba vtedy, ak zostane sýrska armáda zapojená do bojov buď proti islamskému štátu alebo proti amerikou podporovanou SDF.
Z tohto dôvodu je umiestnenie SDF ako vedúcej bojujúcej sily v Raqqa veľmi vypočítavý ťah aby nedovolili sýrskej alebo ruskej
armáde skutočne oslobodiť mesto z pazúrov sponzorovaného terorizmu.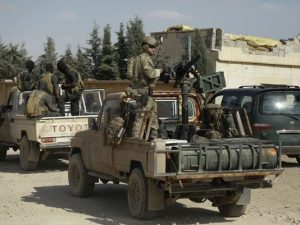 Je divné že chcú "oslobodiť" Raqqa od IS zrovna teraz, keď si uvedomíme, že táto operácia prichádza v čase, keď sa bojovníci
mohli ľahko presúvať z Mosulu do Raqqa aj keď si je toho Západ vedomý. Kurdský spravodajský dôstojník povedal pre
Fox News pred týždňom, že bojovníci "utekajú masívne" v smere Raqqa.
Správa hovorí, "Podľa mnohých zasvätených osôb sú dobre oboznámení s presunami ISIS a taktikou z Mosulu do Raqqa, Isis obsadil opustené cesty ktoré prechádzajú priateľskými sunnitmi obývanými dedinami, ktoré poskytujú nielen úkryt, ale aj potenciálne bezpečné útočisko."
Je zaujímavé, že si Západ bol vedomý tohoto presunu bojovníkov IS. Francúzsky prezident Francois Hollande minulý mesiac povedal, že existujú dôkazy, že islamský štát a jeho bojovníci utekajú do Raqqa, a že je potrebné urobiť všetko pre zastavenie ich preskupenia.
Aj keď tieto "presuny" IS vznášajú otázku, v prvom rade účinnosti a efektívnosti boja o Mosule, tiež to znamená, že skutočným
terčom USA a ich spojencov zostáva Sýria a potom samozrejme Rusko.
Namiesto blokovania trasy z Mosulu do Raqqa, Bojovníkov ISIS zámerne nechali prejsť na Raqqa s cieľom vytvoriť si potrebnú výhovorku, aby umožnili USA zmeniť svoju extrémne slabú pozíciu v Sýrii, kde sýrska armáda opierajúca o Rusko dosiahla značné úspechy proti IS a iným západom podporovaným teroristickým skupinám.
Raqqa je dôležitá pre USA, aby zostali nažive v Sýrii.
Americké velenie jasne odhaduje, že sýrska armáda a jej ruskí spojenci skôr alebo neskôr budú musieť oslobodiť Raqqa.
Vzhľadom k tejto skutočnosti USA nechce utrpieť ďalší nezdar public relations ktoré predtým utrpeli v čase oslobodenia Palmyry a
druhu, z ktorého sú teraz trpí, keď Aleppo smeruje smerom k eventuálnemu pádu z rúk sýrskych a ruských síl.
USA preto chce mať svoje vlastné "víťazstvo" v Raqqa skôr ako Sýrčania alebo Rusi. Ako jeden analytik povedal výstižne:
"Ak je SDF schopné" obsadia "Raqqa, USA bude potom môcť kričať zo strechy, že Amerika oslobodila Raqqa a zabila ISIS vo vlastnom
hlavnom meste."
Táto situácia prichádza do nebezpečnej fázy, ktorá by mohla spôsobiť ľuďom Sýrie viac škody ako úžitku.
Pre nich by situácia zostala kvalitatívne rovnaká. Teraz sú podrobení IS a potom budú pod diktátom USA podporovaných takzvaných
"miestnych síl", tj. SDF.
Vojensky aj ideologicky sú v SDF tiež vyškolení na rovnakých princípoch a netreba pochybovať o tom, že SDF nebude ľudu Raqqa hlásať svoj vlastný "džihádistický fanatizmus. Takto by vytvárali zásadný kontext pre sýrsku armádu aby smerovali ku Raqqa a oslobodili svoje územia aich ľudí od týchto teroristických síl.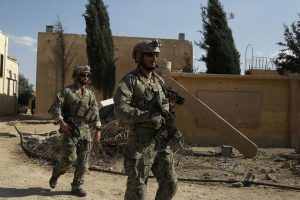 Hrozí dlhotrvajúca kríza?
Sýrske sily, podporované ruským letectvom a ruské špeciálne sily mieria na východ do Raqqa, a SDF + US-vedené koaličné
sily sa rútia na obsadenie Raqqa, výbušná situácia sa vyvíja a je schopná opustiť rozšírené regionálne a medzinárodné dôsledky.
Inými slovami, je v tom zreteľný potenciál, kde sa v závode o Raqqa, sýrsko/ruská aliancia môže ocitnúť tvárou v tvár s možnosťou
priameho vojenského konfliktu s americkou alianciou.
Dokonca aj keď by sa nekonala veľká bitka, čo je v každom prípade nepravdepodobné, USA sa určite chystá komplikovať sýrsku krízu.
Kým sa USA snaží odďaľovať porážku "rebelov" v Aleppo pretrváva propaganda proti Moskve za páchanie "vojnových zločinov" a kontrola Raqqa by ďalej umožnila USA udržať priamy skrytý vplyv na Aleppo, a podporiť viac s SDF "rebelov" teraz uväznených v Aleppe.
Voľba Raqqa je v tejto súvislosti, strategickým krokom zo strany USA ako svojho hlavného záujmu a jasne spočíva v oddialení
dobytia Aleppo a Raqqa sýrskymi vládnymi silami.
Avšak, stane sa to tak či tak a je to len otázkou času, kedy Sýria nakoniec vymaže preč všetkých džihádistov, od umiernených aj
neumiernených skupín.
Preto operácia "Eufrat Anger" nie je ani o porazení terorizmu v regióne, ani o jeho potlačení,o čom hovoria aj francúzske úrady.
Toto všetko sú praktické účely, a povaha amerických cieľov.
V prípade, že sa SDF podarí uloženie kontroly nad mestom a provinciou, USA bude úspešné pri upevňovaní kontroly nad oblasťou a odovzdá krajinu do rúk jej zástupných teroristov a znovu zachovajú "vojnu" nažive a poprú mier.
Napísal Salman Rafi Sheikh , výskumný analytik medzinárodných vzťahov a pakistanských zahraničných a domácich záležitostí.
preklad Pepe WarsOnline
https://soundcloud.com/slobodnyvysielac/sets/warsonline