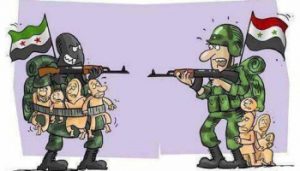 Jad Nasr žije v Sýrii. Má 29 rokov, a má magisterský titul z anglickej literatúry.
Niekedy používa jeho značný talent tým, že slúži ako prekladateľ pre vysokých sýrskych hodnostárov, ako je napríklad veľký mufti.
Má tiež jazvu od strelnej rany na hrudníku, a často dostáva vyhrážky smrťou.
Vysvetľuje, že teroristi ho postrelili, pretože nechceli počuť pravdu .
Možno predpokladať, že teroristi dávajú prednosť svojej vlastnej verzii "pravdy", ktorú im diktujú wahhábistický podporcovia.
Al-Džazíra a Safa TV … rovnako ako všetky mainstreamové médiá zo Západu.
Jadov príbeh nie je nič príjemné, a upozorňuje na to, čo musia Sýrčania vydržať na dennej báze.
Hovorí, že jeho brat bol unesený minulý rok, a že ho teroristi mučili a zničili mu kolená.
Teraz už nemôže chodiť. Tiež mi povedal, že jeho bratranec, ktorý slúžil v Sýrskej arabskej armáde, stratil nohu, keď wahhábistický
samovražední atentátnici zaútočili na jeho vojenské vozidlo. Ďalší bratranec bol unesený v roku
2012, a zostáva v zajatí.
Teroristi majú talent na únosy. Nasr vysvetlil, že v jednej operácii, používali taktiku falošnej vlajky na zajatie tanku a
nakoniec zajali takto aj tisíce sýrskych vojakov v meste Douma v Sýrii.
Teroristi tiež radi, predvádzajú svoju defenzívnu taktiku. Jedným z ich obľúbených spôsobov je použiť zajatcov ako ľudské štíty.
Nasrove svedectvá a video dôkazy ukazujú Unesených jedincov v klietkach, a používajú ich ako ľudské štíty na námestiach.
Netreba dodávať, že keď teroristi obsadzujú mestá alebo časti miest a obcí, používajú ľudských zajatcov ako štíty a
keď bojuje Sýrska arabská armáda (SAA) dom od domu pracuje v obrovskom riziku .
Kým USA, napríklad, kobercovo bombardovalo Fallúdžu v Iraku, Sýrčania nemajú tento "luxus", pretože sa vyhýbajú zabíjaniu sýrskych
civilistov za každú cenu.
Teroristi ovládajú okupované územia s nevýslovným barbarstvom. Svedok masakru pri meste Adra opísal scénu týmito slovami:
Rebeli začali útočiť na vládne centrum, a zaútočili na policajnú stanicu, kde boli všetci policajti zabití po tom, čo pri krátkom
strete nabehol veľký počet útočníkov. Útočníci potom zamierili ku kontrolnému stanovišťu ktoré sa nachádza na okraji mesta a potom sa
presunuli na kliniku, kde zabili jedného zo zdravotníckeho personálu a jeho hlavu odniesli na trh v meste.
Telo potom odtiahlina námestie kde sa zhromaždili obyvateľia mesta aby videli, čo sa deje.
Pracovníci pekárne, ktorí si bránili ich techniku boli upečený v vlastných peciach.
Jabhat al-Nusrat a islamskí bojovníci chodili od domu k domu so zoznamom mien a žiadny z odvezených ľudí sa už nenašiel.
Keď by sa sýrska armáda snažila vstúpiť do Adra džihádisti by zhodili ženy a deti z cca 20.000 zajatých ľudí z horných poschodí budov na
prednej línii."
Nasr tiež diskutoval o lžiach imperialistov, a ich zástupcov. Hovorí, že po dobu prvých troch týždňov takzvanej "revolúcie",
polícia a bezpečnostný pracovníci nenosili zbrane. Počas tejto doby bolo zabitých 15 Nasrových priateľov a boli zabití
takzvanými "pokojnými demonštrantmi".
Táto správa je podporená mierovým aktivistom Janice Kortrightom, ktorý píše:
Médiá o Sýrii klamú a to absolútne … a myslím, že vedenie médií by malo ísť pred súd za vojnové zločiny a zločiny proti ľudskosti kôli
týmto jednostranným falošným príbehom, o tom prečo začala sýrska vojna. A predtým … tiež "arabská jar"
Bolo to zorganizované na západe s použitím "džihádistov" (platených žoldnierov, kriminálnikov a radikálov z vymitými mozgami)
aby vytvorili "nový Blízky východ", kde by fičala západná dominancia a kontrola nad prírodnými zdrojmi.
Tento vojak, ktorý nám dával rozhovor v Damasku, je hrdina a kamarát. Priateľ, ktoré mu som zveril svoj život zasa kedykoľvek a
kdekoľvek.
Bol to jeden z vojakov v Dara v marci 2011 (kde a kedy začalo násilie v Sýrii). Dal mi ďalšie informácie z "prvej
ruky o udalostiach ktoré tam prebehli.
Život sýrskeho vojaka je ťažký. Teroristov platí USA, Saudská arábia alebo Katar čo činí asi $ 300 až $400 mesačne.
Sýrsky vojak s toho dostane 1/10. Bojujú s nepriateľom, ktorý je často neľudský. Poznám jedného vojaka, ktorý bol na kusy, zatiaľ
čo jeho teroristický únoscovia nechali počúvať jeho otca v telefóne mučivú smrt jeho syna.
Klamstvo: sýrska vojna začala, keď prezident Asad surovo potlačil pokojné protesty.
Pravda: Sýrska vojna bola plánovaná v USA od roku 2005. sýrskym vojakom a policajtom nebolo dovolené nosiť zbrane, kým
"mierumilovní demonštranti" nezabili niekoľko stoviek policajtov a vojakov.
Kortrightov rozhovor so sýrskym vojakom, ktorý opísal neozbrojených vojakov a fatálne stretnutia s pôvodnými povstalcami,
pod externou taktovkou týmito slovami:
Vojak: Ja neviem, nevideli sme im tvárou v tvár. Môj najlepší priateľ bol zastrelený, takže som sa cítil hnev a smútok.
Cítil som zlosť, pretože sme boli prepadnutí a všetko, čo sme mali, boli obušky. Nemohli sme sa brániť.
Museli sme utiecť, strieľali po nás ako po vtákoch.
Týto demonštranti zablokovali všetky vchody, ktoré ku nám viedli, takže žiadne sanitky sa ku nám neboli schopné dostať.
Niesol som môjho najlepšieho priateľa aby sme sa dostali do bezpečia.
Kým sme behali videli sme našich priatelov u civilnej polície, ako boli zabití streľbou ešte skôr.
Rovnako tak investigatívny reportér Rick Sterling vyvracia propagandu, že "Assad zabíja svojich vlastných ľudí" vo svojom popise
počiatočných, násilných protestov:
"V skutočnosti došlo k násilným akciám už od začiatku. V prvých protestoch v Daraa, bolo zabitých sedem policajtov.
O dva týždne neskôr došlo v Daraa k masakre 60 vojakov."
Tý istý "pokojný demonštranti" boli priekopníci západom-riadenej operácie "zmeny režimu", kde hralo Moslimské bratstvo aj zahraniční
"robotníci" hlavnú úlohu. "Arabská jar" bola tiež od začiatku cudzia spravodajská operácia.
Nedávne odhady naznačujú, že v súčasnej dobe zamorili Sýriu teroristi pôvodom z približne 100 krajín.
Táto skutočnosť v spojení s právnymi zásahmi do "osi odporu" a nezákonnými vojnovými zločinmi NATO a ich spojencov, znamená že
špinavá vojna proti Sýrii stále zostáva svetovou vojnou.
Zdroj: http://www.globalresearch.ca/
Preklad : Pepe Warsonline
https://soundcloud.com/slobodnyvysielac/sets/warsonline