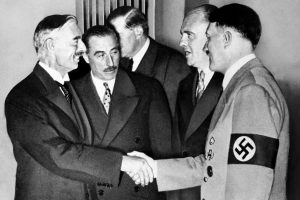 V októbri 2016 vydal americký časopis The National Interest článok Davida Axe s názvom šokujúci spôsob ako sa stal Hitler Hitlerom.
Mnohí autori sa odvolávajú na súčasný stav medzinárodných vzťahov ako «studená vojna 2.0» s tým, že ideologický konflikt medzi
západom a ZSSR počas poslednej studenej vojny bol založený na rôznych výkladoch udalostí z 20 teho storočia, kde nebolo nič
dôležitejšie ako druhá svetová vojna.
A teda otázka, «kto je na vine" je najdôležitejšia.
Kto je zodpovedný za neúspech Versaiskej zmluvy, prečo sa Hitler dostal k moci, a prečo vypukla druhá svetová vojna?
Zdá sa že je to to, o čom píše autor článku v The National Interest.
Napriek jeho zameraniu na Führerovu osobnost a jeho tlačenie vplyvom mocných politických síl, kto zabezpečil Hitlerov
vzostup k moci zostáva za dymovou clonou a skrýva to celý problém.
Teda aj niektoré vyložené lži ohľadom nemecko-sovietskeho paktu z roku 1939 o neútočení (paktu Molotov-Ribbentrop) a rozlíšením
PACE z roku 2009 POLICE AND CRIMINAL EVIDENCE , kde umiestnili znamienko rovnosti medzi ZSSR a hitlerovským Nemeckom ako dva jasné
"totalitné režimy».
Takže kedy presne sa stal Hitler Hitlerom?
Odhaľujúce detaily píše historik Jacques Bergier, že už v lete roku 1938, obyvatelia Berlína prestali kričať «Heil!"
a začali sa zdraviť starou formou pozdravov. V lete roku 1938 sa Hitlerova moc považovala za ukončenú, ale veliteľ 3 tretieho
vojenského okruhu v Berlíne, poľný maršal Erwin von Witzleben, ktorý bol popravený Hitlerom v roku 1944, sa otvorene pokúšal získať
pozíciu Ríšskeho kancelára.
Mnoho nemeckých generálov verilo, že Nemecko bude čeliť nevyhnutnej porážke vo svojej snahe zmocniť sa Československa.
Z výpovedí pri Norimberskom procese, nemecký poľný maršal Keitel, šéf Oberkommando der Wehrmacht (vrchné velenie ozbrojených síl),
povedal: "Boli sme mimoriadne radi, že neprišlo ku vojenskej operácii, pretože sme boli vždy toho názoru, že naše prostriedky ku
útoku na pohraničné opevnenia Československa boli nedostatočné. Z čisto vojenského hľadiska sme postrádali prostriedky k útoku,
na likvidáciu hraničného opevnenia ».
Appeasement (čítaj apízment, epízment z angl. zmierovanie, zmierňovanie) je pojem, ktorým sa v politológii označuje politicko-vojenská
stratégia ústupkov, zmierňovania a tolerancie aj za cenu nevýhodnej alebo poníženej situácie, s cieľom nevyprovokovať vojenský alebo
politický konflikt.
Okrem toho, západný 'zástancovia appeasementu "predstavili Hitlera československému zbrojnému priemyslu už v Mníchove.
Nemecko malo svoje ruky na dieloch Škoda,ako druhý najvýznamnejší výrobca v Európe.
A rovnako ako slávna Škoda pracovala pre Nemecko tiež strojársky gigant ČKD, lietadlá spoločnosti Aero Vodochody, ktoré produkovali
lietadlá Focke-Wulf Fw 189 počas celej vojny, a mnoho ďalších.
V tej dobe, sa Československé tanky a zbrane predávali po celom svete, čím bola Praha jeden z najväčších svetových vývozcov zbraní.
Pred Mníchovskou dohodou, ozbrojené sily oboch krajín vyzerali asi takto: Československá armáda mala 1,582 lietadiel, 469 tankov a dva
milióny ľudí, zatiaľ čo nemecká armáda mala 2500 lietadiel, 720 tankov a 2,2 miliónov ľudí. Veľkosť oboch armád bola porovnateľná.
Navyše hranice medzi Československom a Nemeckom bolo hornaté Sudety. Od chvíle, kedy bolo založené Československo v roku 1919, sa
budovali opevnenia v Sudetoch. Kombinácia moderného opevnenia a hornatého terénu robilo Československo nedobytné tvárou v tvár
nemeckej agresii. A toto všetko bolo odovzdané bez boja.
Rovnako a jednoznačne opevnené Sudety boli tiež v sovietsko-československej zmluve, ale sľub vojenskej pomoci ktorý obsahovala bol
blokovaný Poľskom.
V Mníchove, anglicko uistovalo československých predstaviteľov že v prípade potreby prídu na pomoc.
Chamberlain oznámil Čechom: "Práva národnostných menšín sú posvätné!
Odovzdajte Sudety a dostanete nové záruky na nových hraniciach ».
Všetky reči o západných zárukách boli len trepanie do vetra, zatiaľ čo hornaté, silne opevnené oblasti Sudet zaručovali bezpečnosť
Československa na sto percent.
Dňa 30. septembra 1938 ale československá armáda začala stiahnutie zo Sudet a zanechala za sebou horské pevnosťi a
veľké priemyselné zariadenia. Hitler dal čoskoro Československu novú sadu požiadaviek a 15. marca 1939, Nemecko obsadilo celú krajinu.
Hitler bol zachránený mníchovskou dohodou.
Dohoda so západnými demokraciami dala Hitlerovi dostatok energie, aby mohol fungovať až do apríla 1945.
Otázka položená The National Interest , «Kedy sa Hitler Hitlerom?", Má jednoduchú odpoveď: "V Mníchove v roku 1938".
Mníchovská dohoda bola zmierlivá dohoda medzi demokraciou a nacistickým Nemeckom, a to je niečo, čo nemôže byť vymazané z histórie.
Bola to dohoda medzi agresorom a jeho "zástancami appeasementu". Dôvod, prečo by sme my všetci mali na to pamätať aj dnes je jasné:
Západ sa opäť snaží pózovať ako "umiernený",aby sa zabránilo porážke teroristických síl, ktoré zachvátili Sýriu a už ohrozujú Európu.
preklad: pepe WarsOnline
https://soundcloud.com/slobodnyvysielac/sets/warsonline