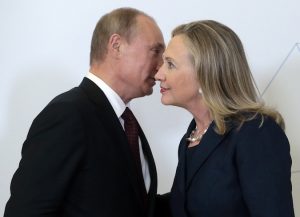 Podivný – nebo vlastně pro nejvyšší politiku příznačný – kšeft prý ohrožuje americké strategické zájmy, ale plní konta žhavé kandidátky
na budoucí hlavu USA.
Prezident USA Barack Obama v úterý zrušil režim národního mimořádného stavu, přičemž anuloval nařízení, s nímž Bílý dům už od roku
1993 platil Rusku za dodávky uranu. Skončil tak program "Megatuny za megawatty", který měl zajistit, aby asi 500 megatun obohaceného
uranu z demontovaných ruských bojových hlavic ve finále neskončilo například v rukou teroristů. Platby za uran prý byly fakticky
zastaveny už v prosinci 2013.
Vše započalo krátce po rozpadu Sovětského svazu, kdy byla uzavřena dohoda o zpracování vysoce obohaceného uranu ze sovětských
jaderných bojových hlavic na nízko obohacený uran použitelný v amerických elektrárnách. Spojené státy sice rozvíjejí plány na omezení
jaderné energetiky, ale i tak USA z tohoto energetického sektoru stále získávají 100 GW ročně. Jen loni tak potřebovaly asi 24 milionů
kilogramů uranu, přičemž v samotných USA se podle údajů amerického Energetického informačního úřadu zpracuje jen asi 10 procent z tohoto
množství. Zbytek je třeba dovézt stejně jako v předchozích letech. Dalším problémem je přitom samotný proces obohacování, který ve
Spojených státech provádějí soukromé firmy. Ty americké však v tomto průmyslovém segmentu tvoří pouhých dvacet procent, zbytek jsou
firmy se zahraničními vlastníky.
Konec jedné dohody ovšem neznamená konec obchodu s uranem jako takovým, už loni se spekulovalo, že USA podle všeho chtějí – pod novým
názvem – její platnost prodloužit. Konkrétní body nové smlouvy sice nejsou jasné, ale není pravděpodobné, že by se americká závislost
na ruském uranu nějak výrazně snížila, tím spíš, že vlastní americké kapacity jsou v tomto směru omezené.
A co víc, jeden z amerických dodavatelů uranu, koncern USEC, vyhlásil loni v březnu bankrot, což znamená, že podíl zahraničních – a
ruských – firem na americkém trhu vzroste.
Není rozhodně bez zajímavosti, že v celé kauze ruského uranu v USA sehrává významnou roli nadace Billa a Hillary Clintonových, která
dokázala zajistit posílení ruských pozic v tomto strategickém sektoru – samozřejmě výměnou za tučné sumy, upozorňuje například New York
Times. A Business Insider nabízí pozoruhodný příběh, jak Clintonovi získali miliony za to, že Rusové ovládli 20 procent amerických
zásob uranu. To prý bylo tak: V roce 2009 ruská státní jaderná agentura Rosatom prostřednictvím své těžební divize ARMZ koupila 17
procent podílu v kanadské firmě Uranium One, která zajišťuje těžbu asi pětiny veškeré uranové rudy v USA.
V roce 2010 se ruská strana rozhodla, že chce v Uranium One, která už v té době vlastnila doly v USA, Rusku a Kazachstánu, kontrolní
podíl 51 procent akcií. Tento krok si vyžádal souhlas kazachstánských a kanadských regulačních orgánů, a ať to zní jakkoli podivně,
jediné, co k tomu Rusové potřebovali v USA, byl souhlas zvláštního výboru pro zahraniční investice, v jehož čele tehdy stála Hillary
Clintonová. Investoři z Uranium One přitom nadaci Clintonových přispívali od roku 2005 přinejmenším do roku 2011, kdy Bill Clinton
dostal za přednášku v Moskvě půl milionu dolarů, a to od banky, která má blízko ke Kremlu a vlastní akcie Uranium One.
V lednu 2013 pak Rosatom za dalších asi 2,8 miliardy dolarů ovládl Uranium One zcela, přeorganizoval ji v Uranium One Holding (U1H),
odhlásil ji z torontské burzy, ale hlavně, Rusko tím získalo kontrolu nad pětinou americké uranové produkce.
Mezi projekty U1H ve Spojených státech jsou nejzajímavější doly Jab and Antelope, Moore Ranch a Willow Creek, všechny ve státě Wyoming,
přičemž aktivní je v současnosti ale jen Willow Creek. Z něj U1H získává ročně asi 210 tun uranu, což představuje 11 procent veškeré
loňské těžby uranu v USA. S přihlédnutím k faktu, že americký uranový průmysl je v současnosti většinově v zahraničních rukou, je celá
kauza jen důkazem pokračujícího trendu postupně se snižujících možností USA ovlivňovat cyklus produkce jaderného paliva ve všech jeho
fázích.
Jak připomíná New York Times, jako ministryně zahraničí byla Hillary Clintonová ještě před složením přísahy povinna zveřejnit všechny,
kdo přispíval do jejich rodinné nadace, ale miliony dolarů z Uranium One se v přehledu neobjevily. Financování Clintonových nadací se
věnuje s napětím očekávaná kniha Petera Schweizera a probíhá i vyšetřování podílu Hillary Clintonové na uranové kauze.
Mluvčí nadací podle očekávaní veškerá obvinění popírají, nicméně celý příběh tím jen tak neumlčí.
Pokud by se ukázalo, že vše je pravda, znovu se ukáže role peněz v globální politice.
A znovu se ukáže, že pokud žhavá kandidátka na stěhování do Bílého domu Hillary Clintonová (nebo třeba i jiný západní politik)
má Putina za Hitlera, vůbec to tak nemusí myslet…
original: literárky.cz 2015