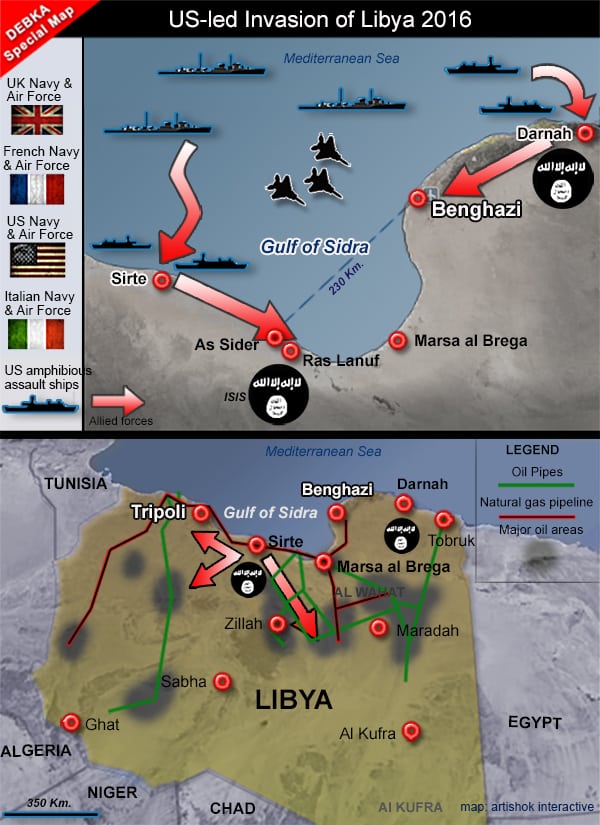 Predstavitelia medzinárodne uznávanej vlády v Tobruku popierajú zapojenie francúzskych špeciálnych jednotiek vo
vojenských operáciách proti ISIS v Líbyi.
Predtým bola táto informácia zverejnená francúzskymi médiami.
Líbyjské vojenské zdroje uviedli, že francúzski vojaci vykonávajú "spoločné operácie" proti ISIS v
Benghází s vojakmi generála Khalifa Haftara, bývalého agenta CIA a veliteľa ozbrojených síl lojálnych k medzinárodne
uznávanej vláde.
Francúzske sily, podľa týchto zdrojov, sú v súčasnej dobe rozmiestnené niekde vnútri Benina
na leteckej základni na východ od Benghází, uviedol jeden líbyjský bezpečnostný zdroj, ktorý nemohol poskytnúť
informácie o veľkosti alebo sile jednotky. Francúzske orgány nepotvrdili ani nepopreli túto informáciu.
Podľa správy zverejnenej v novinách Le Monde francúzsky štát vedie tajnú vojnu v Líbyi.
Ide o občasné cielené nálety proti vodcom ISIS s predchádzajúcimi skrytými pozemnými operáciami.
Čas k invázii?
Ďalej len "Exposé" francúzskej tajnej vojny v Líbyi sa zhoduje s prednými tlačovými agentúrami ktoré upozorňujú
na tému hrozby terorizmu v Líbyi. Uvádzali, že "islamský štát", riadi pobrežie bohaté na ropu
neďaleko mesta Sirte a plánuje sa posunúť so svojou činnosťou v Líbyi a použiť výnosy z líbyjských operácií
a pašovania ropy na financovanie teroristických aktivít po celom svete ,
To znamená, že médiá sa snažía zabezpečiť implicitné zdôvodnenie pre akúkoľvek akciu, ktorá sa vykonáva v Líbyi
západnými krajinami, a nie iba Francúzmi, ale aj samozrejme USA a Veľká Británia.
Ako sa často stáva, teroristická hrozba sa objavuje tam kde to je výhodné pre záujmy nielen USA
a prichádza úsilie o odstránenie hrozby ktoré zahŕňa nielen nálety a použitie dronov, ale aj pozemné špeciálne
operácie, na získanie kontroly nad ropnými poliami v krajinách ktoré sú strategicky dôležité.
Je príznačné, že boj proti ISIS v Líbyi, rovnako ako v Sýrii, sa stal zámienkou pre pohodlné intenzívnejšie
zapojenie západných krajín do meziarabských problémov.
Hlavnou úlohou je nielen poraziť ISIS, ale tiež sa chopiť ropných polí.
Zároveň al majú západné krajiny konkurentov keďže sa oblasť pod kontrolou ISIS nachádza medzi regiónmi pod kontrolou
prozápadnej medzinárodne uznávanej vlády v Tobruku a na území islamistickej vlády v Tripolise, podporovanej z Kataru
a Turecka.
Z tohto dôvodu budeme sledovať "neviditeľnú" vojnu v Líbyi, kde bude vojna krajín zo Západu a monarchií Perzského
zálivu a samozrejme Egypt a Turecko sa tiež angažujú.
Geopolitické rozdelenie Líbye
Vláda v Tobruku ovláda region Kyrenajce, severovýchodnú časť krajiny, ktorá susedí s Egyptom.
V staroveku, to bolo umiestnenie gréckych kolónií. Táto oblasť bola tradične orientovaná smerom k Egyptu.
Keď sa arabská jar začala a Moslimské bratstvo sa dostalo ku moci v Egypte, Cyrenaica, s jeho hlavným mestom Benghází,
sa stala baštou islamistickej opozície proti Kaddáfímu.
Po vojenskom prevrate v Egypte, Cyrenaica spadala pod kontrolu viac sekulárnej a medzinárodne uznávanej vlády
Líbye v Tobruku, s Khalifom Haftarom ako hlavným vojenským vodcom.
Ale miestny džihádisti obsadili niektoré časti regiónu Kyrenajce;
Najdôležitejšia islamistická organizácia je mudžahedínska rada s Derna, Benghází a Ajdabiya, ktorá ovláda niektoré
časti regiónu.
Vláda z Tripolisu kontroluje väčšinu Tripolitánie, na severovýchode krajiny.
Ta bola pomenovaná po troch starovekých kolóniách Féničanov.
V staroveku to bola súčasť kartáginskéj ríše a bola tradične súčasťou geopolitických procesov v západnom
Stredomorí.
Dnes je táto časť krajiny riadená islamisticky orientovaným národným kongresom.
Islamský štát ovláda východnú časť Tripolitanskeho pobrežia, na polceste medzi Tripolisom a Benghází, s mestom Sirte.
Tretia významná časť Líbye je Fezzan; to je v juhozápadnej časti krajiny a je obývaný osadníkmi berberských kmeňov,
arabmi, Tebu a Tuaregmi. Región je rozdelený medzi silami Tripolisu, Tobruku a nezávislými Tuarégmi a kmeňmi Tebu.
Obe hlavné sily sa snažia využívať inter-kmeňové napätia pre svoje vlastné záujmy.
Skryté ruky Turecka a Kataru
Už teraz je na území Líbye, proxy vojna medzi Tureckom a Katarom, na jednej strane a Egypt, Saudská Arábia a
Spojené arabské emiráty na strane druhej. prikláňa k podpore druhej skupine súčasne západ.
V čase vypuknutia novej občianskej vojny v roku 2014 medzi vládami v Tripolise a Tobruku, Katar, Turecko a Sudán
podporovali vládu v Tripolise, kde sú štruktúry spojené s moslimským bratstvom sa ujali moci.
Európske krajiny, USA, SAE, Egypt a Saudská Arábia podporili svetskú vládu v Tobruku.
Súperiace milície bojujú o kontrolu nad zdrojmi ropy v krajine, ktoré sa odhadujú na 46,4 miliárd barelov
preukázaných rezerv, čo sú najväčšie v Afrike.
Po odstránení od vlády Muammara Kaddáfího, Katar získal významné výhody z tejto novej vlády.
Katarské špeciálne sily sa aktívne zapojili do prevratu v Líbyi a pomohli vypudeniu vlády Muammara Kaddáfího.
Katar robil pechotné školenia pre líbyjských bojovníkov v horách Nafúsa na západe Lýbie a vo východnej
Líbyi, a boli aj videný na frontovej línii. V roku 2011 sa novo objavila opozícia a vedenie Líbye podpísalo dohodu s
Katarom, aby mali výlučné práva na ťažbu ropy. Katar podporoval skupinu Ansar al-šaría, čo sú brutálny Jihadisti
podozrivý zo zabitia amerického veľvyslanca v Líbyi 11. septembra 2012, Christophera Stevensa v Benghazi, a
snažili sa zavraždiť jeho britský náprotivok Sira Dominica Asquitha.
Vojenská vzbura generála Haftara v roku 2014 bola namierená najmä proti vplyvu "Moslimského bratstva" a Kataru.
Z tohto dôvodu bola jeho vláda bola okamžite rozpoznaná Západom ako jediná legitímna. Ako výsledok, Katar a Turecko
posilnili svoju vojenskú spoluprácu s islamistami v Tripolise a začali ich aktívne zásobovať so zbraňami.
Zatiaľ čo Katar uviazol v sýrskom ťažení a spoločnou inváziou krajín Perzského zálivu v Jemene, nemôže si dovoliť
v Líbyi totálnu vojenskú operáciu, ale nejakú podporu pre bojovníkov aj naďalej poskytuje.
Ešte zaujímavejšia je skutočnosť, že ISIS je tiež podporovaný z Katarských súkromných fondov.
V roku 2014 vyšlo najavo, že Katarský veľvyslanec v Líbyi sprostredkoval prepravu 1800 bojovníkov z Líbye do
Iraku, kde mali bojovať na strane ISIS. Turkecko bolo do tejto transportej operácie tiež aktívne zapojené.
V Dokumente s podpisom úradníka z katarskeho veľvyslanectva v Líbyi, Nayefa Abdullaha Al Emada, napísal, že
"dobrovoľníci absolvovali vojenský a bojový výcvik s ťažkými zbraňami, a to najmä v táboroch Zintán, Benghazi,
Zawiya a Misra v Líbyi" a že posielajú týchto bojovníkov v troch dávkach z líbyjských prístavov do Turecka,
a potom vstúpia do severného Iraku cez Kurdistan.
ISIS v Líbyi uvádza že Katar túži priamo alebo nepriamo kontrolovať väčšinu z pobrežných ropných ložísk.
V súčasnej dobe sú strety medzi Tripolisom a islamistami a ISIS v Líbyi, kde sú obe strany nejakým spôsobom
prepojené na Katar a Turecko.
preklad : pepe WarsOnline
kateon.com
https://soundcloud.com/slobodnyvysielac/sets/warsonline