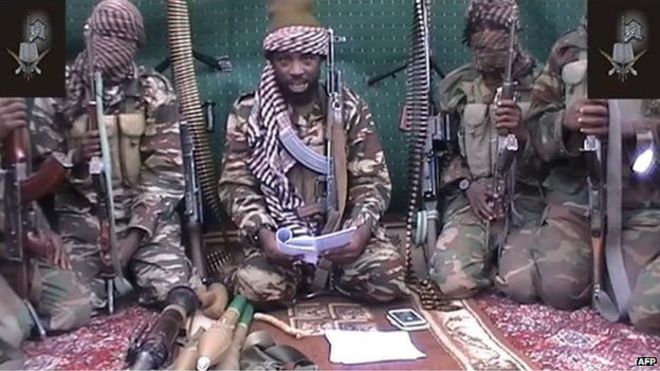 Teroristická skupina Boko Haram sa stala svetoznámou v roku 2014, po únose viac než dvoch stoviek dievčat z ich
internátu v Nigérii keďže oni zakazujú západný typ vzdelania.
Korene organizácie siahajú až do začiatku roku 2000. keď kolektív mladých islamistov, viedol Mohammed Yusuf, ustúpili
do odľahlých oblasti krajiny, a začali ich boj proti nigérijským úradom.
Ich akcie boli rôzne, príležitostné svetielka násilia, a strety s bezpečnostnými silami prebiehali do roku 2009, kedy bol ich vodca
zabitý nigérijskou políciou.
Po zverejnení zabitia neslávneno salafistického vodcu Yusufa, Boko Haram prešla do stavu hibernácie a boli takmer ticho skoro dva roky. V roku 2011 po vypuknutí masívnej revolúcie na severe Afriky je táto organizácia prišla so svojim comebackom.
Úsilie Boko Haram je zamerané predovšetkým na vytvorenie právnej šaríe a odstránenie akéhokoľvek západného alebo keď na to príde sekulárneho vzdelávania spoločnosti. Keďže je krajina väčšinou obsadená kresťanmi a moslimami (vo väčšinovej mierne), väčšina z násilia a teroruje vedená proti "neveriacim" a tzv Takfirom (zlým moslimom). Taktiku hrôzy Boko Haram možno rozdeliť do dvoch hlavných kategórií.
Prvú kategóriu tvorí pomerne jednoduchá taktika spoločná pre veľa partizánskych skupín, ako je udri a uteč a náhodné akty násilia v málo strážených oblastiach, atentáty, lúpeže a tak ďalej.
Táto taktika bola masívne použitá na začiatku pôsobenia keď mali nedostatok vedomostí a zdrojov, čo bolo zrejme hlavnou príčinou.
Druhá kategória zahŕňa oveľa zložitejšie akcie, ako samovražedné útoky, organizované útoky na vojenské základne, masové strieľanie a popravy. Zaujímavá je druhá kategória a stala oveľa viac aktívna po roku 2011 po páde líbyjskej vlády. Po povstaní v Líbyi, veľkosť rabovania armádneho vybavenia dalo do obehu veľké množstvo zbraní, automatické pušky a ďalšie pechotné zbrane.
Veľa z týchto zbraní, sa dostalo ku niektorým z extrémistov v severnej Afrike a vydali sa na cestu do Nigérie ako Boko Haram.
Hoci predstavujú vážnu hrozbu pre Nigériu, Boko Haram nemôže fungovať ako globálna sieť teroristov.
Predovšetkým táto skupina postráda podporu významných salafistov alebo vahabistických učencov, na rozdiel od Al-Kajdy, alebo ISIS, ktorého cesta bola vydláždená ľuďmi ako Abdullah Azzam a ďalší radikálny moslimovia.
Neboli zistené žiadne Fatwa (stanoviská učencov a duchovných, ktorý legalizujú ich kroky a dajú požehnanie na ne) pre Boko Haram, ktoré sa používajú ako základ, alebo zámienka na vytvorenie alebo pôsobenie rôznych džihádistických skupín.
Napriek pokusu o vytvorenie kalifátu Boko Haram nepreukázal žiadny záujem o rozšírenie ich finančnej podpory alebo prostriedkov, neboli žiadne útoky alebo pokusy, aby využili všetky ropné plošíny v krajine, keďže Nigéria je jedným z najväčších producentov ropy v Afrike, a sú považovaný za chrbticu teroristickej sieťe prevádzačov. Tiež je potrebné poznamenať, že majú malú alebo žiadnu podporu tejto skupiny v krajine, alebo od niektorých vyšších kruhov spoločnosti či moslimských duchovných.
Táto situácia sťažuje financovanie skupiny, a živia sa krádežami a únosmi ako hlavný zdroj príjmov (veľké množstvo cudzincov z Kamerunu pracuje v tejto populárnej destinácii pre únoscov) .
Ich prístup k civilnému obyvateľstvu, je tiež veľmi tupý. Bez akejkoľvek hlbšej ideológie, označia ľudí ako Takfir alebo neveriacimi
a vyhrážajú sa im zabitím, ak si doprajú nejaký druh západnej kultúry alebo vzdelania.
Napriek ich obmedzenému úsiliu ku globálnemu terorizmu, Boko Haram stále predstavuje významnú hrozbu pre Nigériu
a celý región.
Prispievajú ku tomu tri hlavné veci. Prvá vec čo vyvoláva otázky sú možnosti nigérijskej armády a polície pri boji s terorizmom.
Od počiatočného úspechu zabitia Mohammeda Yusufa v roku 2009 nebol žiadny prielom v boji proti Boko Haram.
Vojsko postráda morálku a disciplínu, pokiaľ ide o boj s touto skupinou, opúšťajú dediny a utekajú pred teroristami čím dávajú civilistov len malú nádej na prežitie. Vysoké množstvo korupcie vo všetkých oblastiach spoločnosti, vrátane vojenských, v kombinácii s neskúseným vojenským personálom umožňuje urobiť z vojakov ľahké ciele pre extrémistov. Pre sa ľudía, sami organizujú v rôznych polovojenských a miestnych milíciách, aby zachránili svoje životy a majetok.
Ozbrojené organizácie, ako sú tieto v podobných spoločnostiach ako je Nigéria sa zvyčajne obrátia po určitej dobe proti sebe , čo končí pri bežnom banditizme a krviprelievaní.
Keďže ISIS prináša rôzne taktické alebo morbídne oznámenia, nigérijský džihádisti majú tendenciu napodobňovať alebo reprodukovať niečo podobné, samozrejme len v rámci ich možností.
Ďalšia vec sú geostrategické faktory a blízkosť krajín, ako je Sudán, Kongo.
Vláda je sužovaná obrovskou korupciou a poskytuje jednoduchý zlatý dôl pre nadnárodné korporácie a ich záujmy.
Sú bohatí na prírodné zdroje, ale sú stále v hlbokej chudobe takže tieto krajiny môžu slúžiť ako dobrý základ regrutovania mladých extrémistov.
Sektárske delenie, ktoré je prítomné tiež, a to najmä v Sudáne, podnecuje viac násilia a nestabilitu v celej Afrike.
Ak sa jedna krajina alebo spoločnost rozhodne ísť "cestou džihádu" hrozba prelievania krvi v iných krajínách v
regióne je veľmi reálna, najmä ak berieme do úvahy faktory ktoré sme už spomínali skôr.
Zdá sa, že chudoba je hlavným faktorom, čo ľudí spája z radikálnymi skupinami, ale to neznamená, že je to hnacia sila.
Nigéria má v porovnaní s ostatnými africkými krajinami primeranú životnú úroveň, napriek tomu čo robí neslávny Boko Haram. Dôvody možno nájsť v historických a sociálnych faktoroch a tiež v nečinnosťi zvolenej vlády vážne riešiť tento problém.
Od globálnych hráčov nemôžeme očakávať že aktívne spravia nejaké kroky, kým má táto skupina len regionálny charakter lebo sa
neskôr môže stať hrozbou pre podniky ktoré v súčasnej dobe využívajú zdroje v tomto regióne.
pepe.
https://soundcloud.com/slobodnyvysielac/sets/warsonline