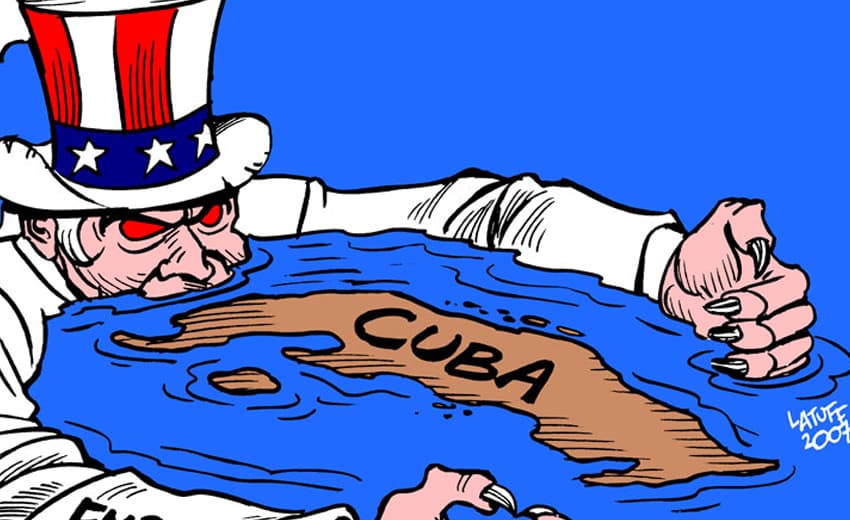 Na Kube je chudoba, ale nie je to chudoba, ako je známe, v ostatných krajinách regiónu, kde sú getá a podobne.
Nie tu na Kube. Nemáme žobrákov spiacich na uliciach … chudoba je iná.
"Tento výrok kubánskeho spisovateľa, obyvateľa hlavného mesta krajiny Havany, bol uvedený v medzinárodnom
televíznom dokumente.
V tom, reportéri hovoria, že Kuba má vzdelávací systém, ktorý prevyšuje ostatné krajiny latinskej ameriky
pretože všetci študujú vo verejných školách a študenti preukázujú vysokú kultúrnu úroveň.
Tiež pochválili systém verejného zdravia, ktorý je známy po celom svete s preventívnou medicínou a Kuba
vysiela lekárov do mnohých krajín na profesionálnu výmenu.
Už viac ako 50 rokov, Havana požaduje koniec ekonomickej blokády uvalenej na Kubu Spojenými štátmi a odstránenie
vojenského zariadenia zo zátoky Guantanamo a diplomatické vzťahy založiť na vzájomnom rešpekte.
A konečne, v roku 2014, USA oznámilo, že bude s Kubou sledovať cestu k normalizácii vzťahov .
V máji 2015, po pol storočí sankcií a izolácie, Washington stiahol Kubu zo zoznamu sponzorov terorizmu.
Prišlo znovuotvorenie veľvyslanectva Kuby vo Washingtone, a USA v Havane, v júli 2015, ukončili obdobie
nepriateľstva trvajúceho 54 rokov. Podľa prezidenta Raúla Castra, hlavnou otázkou je koniec hospodárskej,
obchodnej a finančnej blokády uloženej v roku 1962 Johnom Kennedym. Ale,rozhodnutie je v rukách Kongresu USA,
a väčšina z nich sú Republikáni a nesúhlasia medzi Spojenými štátmi a Kubou ani s bilaterálnymi vzťahmi .
Podľa názoru kolumbijského ekonóma Carlosa Martíneza Doktora V medzinárodných vzťahoch z
parížskej univerzity a geopolitických Analýz, medzinárodný tlak bol ku obnoveniu dialógu nevyhnutný .
"Latinská Amerika a Vatikán sú dôležitými nástrojmi tlaku na Obamu a jeho administráciu.
Akcie bloku členských krajín UNASUL (Únia juhoamerických národov) a pápeža boli dôležité pre obe krajiny
"hovorí Martinez.
Avšak, expert na medzinárodné vzťahy z Brazílskej univerzity, Pio Penna, povedal, že tlak zo susedných krajín,
alebo dokonca Vatikánu nebol hlavný dôvod. "Čo sa stalo bolo, že prezident Obama mal tento cieľ, jednoducho
preto, že embargo je dnes anachronické a nepochopiteľné tvrdí.
Kríza s koncom Sovietskeho zväzu
V neskorých 80. rokov, Kuba trpela hospodárskou krízou, ktorá paralyzovala tento malý národ široko ďaleko.
Potom Sovietsky zväz prestal existovať, rozdelil sa do niekoľkých krajín a skončil so systémom s názvom
"socializmus" kde sa továrne, banky a pôda vrátili do súkromného vlastníctva.
Preto, obchod s Kubou, ktorá posielala poľnohospodárske výrobky do ZSSR výmenou za ropu a priemyselný
tovar za dotované ceny, prestala existovať a priviedlo krajinu do veľmi ťažkej situácie.
Kubánska vláda sa obrátila so žiadosťou o pomoc na západné krajiny . Vláda zaviedla nové zákony a v roku 1995,
otvorili krajinu ku prílivu zahraničného kapitálu, povolili vývoz a dovoz výrobkov bez kontroly štátu
a voľný odliv ziskov do zahraničia.
Vstup zahraničného kapitálu prišiel prakticky vo všetkých odvetviach výroby rýchlym tempom.
Spoločné podniky (kubánskeho štátu a zahraničného kapitálu) dominovali 100% hladanie ropy, železnej rudy,
výroba mazív, telefónne služby, výroba mydla, toaletné potreby a vývoz rumu;
70% u poľnohospodárskych podnikov a citrusov a 50% produkcie niklu, cementu a cestovný ruch.
V roku 2013 bol prijatý nový zákon o zahraničných investíciách, čo ďalej uľahčilo na Kubu vstup súkromných
podnikov.
Okrem zdravotníctva, školstva a komunikácií, môžu mať všetci ostatní zahraničný investori oslobodenie
od daní po dobu 8 rokov a uistenie, že vláda nebude tieto spoločností znárodňovať. Okrem toho štát už
nepožaduje podiel vo vlastníctve a podniky môžu byť úplne súkromné.
Kto využil tejto politiky?
Európske krajiny, pretože spoločnostiam zo Spojených štátov bolo zakázané investovať na Kube v dôsledku
hospodárskej blokády. Ale teraz chce administratíva prezidenta Obamu toto zvrátiť a umožniť americkému
kapitálu dohnať stratený čas.
Kapitalizmus
Mnohí si môžu myslieť, že to nie je zlé. Koniec koncov, vstup súkromných spoločností zvyšuje úroveň
zamestnanosti, a môžu dokonca zdvihnúť platy v dôsledku väčšej konkurencie.
Mnoho Kubáncov v súčasnej dobe obhajuje zmeny vykonané vládou.
Ale vždy hovoria, "Náš systém je socialistický a musí tak pokračovať ďalej!"
Ale, toto nie je ten prípad. Ak chcete pre predstavu, v roku 2010 kubánska vláda schválila prepustenie 1 milión
pracovníkov zo štátnych podnikov.
Oficiálna miera nezamestnanosti je 3,8%, ale skutočná miera dosahuje 18,5%.
Oficiálny Minimálny plat je $90 v Uruguaji; $ 120 v Paraguaji; $ 160 v Čile; $200 v Argentíne a $ 220 v
Brazílii.
Kuba má 20 US$. Aj keď súkromné ​​firmy platia viac, než kubánska vláda
Okrem toho, v roku 2013 prešli na nové pracovné právo, pre súkromné ​​spoločnosti.
Tým vytvorili cestu na prácu 44 hodín týždenne, jeden deň odpočinku týždenne a na
platenú dovolenku 7 dní v roku.
Ani toto nové pracovné právo nerieši Odškodnenie, kvôli zmluvám na dobu určitú.
Jedná sa o najnovšiu legislatívu vo väčšine krajín Latinskej Ameriky.
Ako vidíte, nie je to pre obyvateľstvo Kuby nič prospešné . Ak ku tomu pridáme, že tam nemajú žiadne
nezávislé odbory, slobodu protestovať, alebo právo na štrajk, sa Kuba stáva rajom pre vykorisťovanie pracovných
sil v divokom kapitalizme presne ako v Anglicku v 18. storočí.
https://soundcloud.com/slobodnyvysielac/sets/warsonline