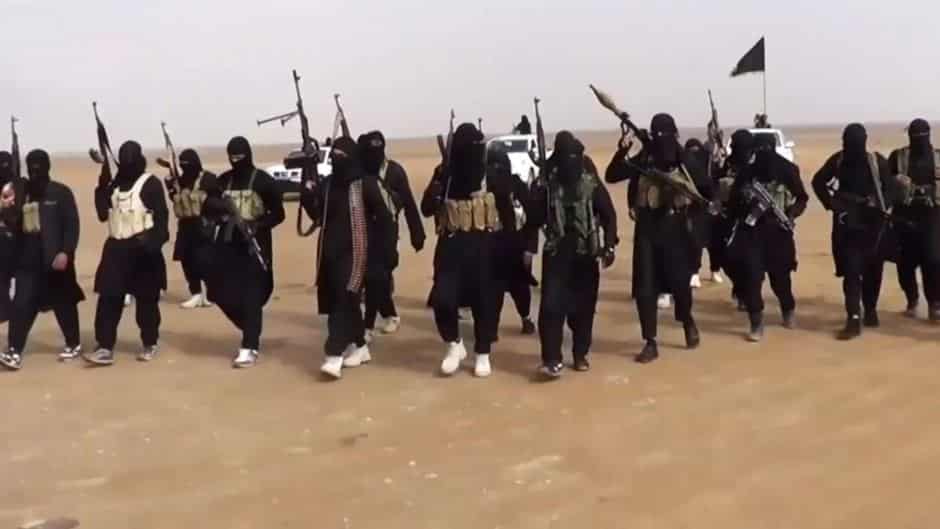 Odhady množstva bojovníkov islamského štátu (Isil) sú extrémne široké. Podľa CNN Barbara Starr,
"USA odhaduje, že Isil má celkovú silu niekde medzi 9000 až 18.000 bojovníkmi. Odhady
CIA o skupine boli medzi 20,000 a 31,500 bojovníkmi, v Iraku a Sýrii.
Riaditeľ sýrskeho úradu pre ľudské práva, Rami Abdel Rahman povedal, že Isil má viac ako
50.000 bojovníkov len v Sýrii. Podľa ruského generálneho náčelníka štábu, Rusko odhaduje že má Isil
"70.000 ozbrojencov rôznych národností." bezpečnostný expert z Bagdadu, Hisham al-Hashimi
tvrdil, že v auguste 2014, mal Isil blízko ku 100,000 kusom. V novembri, Fuad Hussein, náčelník
štábu kurdských síl, povedal Patrickovi Cockburnovi z The Independent, že Isil má najmenej
200.000 bojovníkov a odhady CIA sú príliš nízke.
Takže, kto má pravdu? Aký je odhad najbližšie k reálnym číslam? Ak chcete odpovedať na túto
otázku, je dôležité vziať do úvahy, ktorú časť Isil síl sa snažíte spočítať, veľkosť územia, ktoré
Isil obsadzuje, a aké množstvo koaličných sil nasadili na nich.
Množstvo 200.000 Isil bojovníkov odhadnutých Fuad Husajnom zahŕňa: podporný personál (Ansar), bezpečnostné
sily (hisba), miestne milície, príslušníkov pohraničnej stráže, polovojenský personál
spojené s rôznymi bezpečnostnými orgánmi skupiny (muchabarat, Assas, amniyat, a AMN al-Khas),
ďalej odvedenci a učňi.
Takže skutočný počet Isil frontových posádok môže byť oveľa menší, ktorý je rozdelený
medzi pravidelnými silami (Jund), elitné polovojensk (inghimasiyun, ktoré ako jediné môže
mať až 15.000 členov), a potom ich eskadra smrti (dhabbihah) . Kým niekto objektívne
neposúdiť tieto jednotky, vyhadzovanie hrubých čísel o veľkosti Isil nemá zmysel.
Tu je odhad veľkosti populácie v oblastiach, ktoré zaberajú Isil v Sýrii:
Provincia Raqqa (počet obyvateľov 944.000)
Provincia Dayr al-Zawr, bez mesta Dayr al-Zawr (746.566)
Shaddadi, Markado, a al-Arish okresy hasák (90,095)
Jarabulus a Manbidž okres Aleppo (467,032)
Celkový počet obyvateľov: 2.247.693
Isil potrebuje pre správu tejto populácie v Sýrii velké množstvo bojovníkov, a musia tlačiť
extrémnou islamskou
vládou a zároveň udržať rozsiahle útočné operácie inde. Môžeme to porovnať so situáciou v Afghanistane
.
Regionálne velenie Southwest potrebuje okolo 30.000 amerických, britských a dánskych vojakov kde sa snažia
kontrolovať Helmand Nimruz, ktorý má populáciu celkom 1,598,369.
Koaličným silám tiež pomáha afganská národná armáda, afganská národná polícia, afganská
poriadková polícia a Národné riaditeľstvo pre bezpečnosť. To znamená, že celkový počet
síl na ich strane je väčší ako 30.000. Pričom do úvahy musíme brať terén, rozdiely infraštruktúry a skutočnosť,
že Isil nemá k dispozícii moderné technológie, logistiku a prieskum inváznych síl,
Isil potrebuje minimálne 30.000 vojakov len na udržanie kontroly na obsadenom území v Sýrii.
Je jasné, že spravodajské odhady síl Isil sú nízke, ale keď pridáme teritoriá, pod kontrolou
v Iraku spolu s počtom obyvateľov prídeme na čísla vyššie.
Mosul, Hamdaniya, Tal Afar, Al-Hadar a Ba'aj okresy Ninawa (populácia 1,984,829, znížená na zhruba
1.484.829 americkou intervenciou a sankciami krvavej Madlejn Olbreitovej o 500.000)
Al-DIBs, Daquq a Hawija okres Kirkúk (525,758)
Al-Qa'im, Rutba, ANAH, Hit a Fallúdži okresy Anbar (1,767,686, pravdepodobne znížená na 1,587,686
v dôsledku bojov a náletov o 180.000 )
Al-Sharq, Tikrítu, a Dawr okresy Saláhaddín (367,244)
Celkový počet obyvateľov: 3.965.517 až 4.645.517
V porovnaní s populáciou na sýrskych územiach kde je IS, počet obyvateľov, ktorých Isil musí ovládať v
Iraku je takmer dvojnásobný. V tejto ich územnej správe je viac kontingentov Isil , ktoré udržujú
svoje vlastnú logistiku a podporný personál, a ktoré sú schopné vykonávať veľké útočné operácie,
ich prápory sa volajú napriklad al-Sarim al-Battar, al-Aqsa, Groznyj, Sarajevo, Yarmuk , Jalut, Dawud,
Jabal, Saiqa, Zilzal,
al-Qa'qa, Hitin, a al-Qadisiyah . (Samozrejme Isil prápor nie je tak veľký ako US alebo iného vojska
jedna.) Podľa týchto skutočností odhad Hisham al-Hashimiho je že Isil má asi 100.000 mužov v zbrani a
javí sa ako vierohodný.
Ak vezmeme do úvahy založenie, Isil má viac bezpečnostných orgánov a robené masové odvody v Raqqa,
Ninive a západnom Anbare, by tiež mohlo byť hodnoverný kurdský odhad o 200.000 ľudoch.
CENTCOM uviedol, že zabili 6.000 Isil bojovníkov len samotnými náletmi od augusta. Takže by to mohol
byť ďalší fakt, ktorý ukáže, že odhad USA je príliš nízky, s ohľadom na veľkosť územia ktoré Isil ovláda
to čo spôsobili Američania náletmi na bojovníkov islamskeho štátu sa javí takmer zanedbateľné.
Ak sú prognózy USA presné, potom medzi 20 až 30% z celkovej sily Isil bolo eliminovaných náletmi.
Takýto záver je jasne nerealistický: Aj keby bol Isil schopný nahradiť svoje sily v tak krátkom čase,
vo výške rovnajúcej sa malých strát spôsobených zo strany USA, by skupina bojovala oveľa horšie na bojovom poli.
Naproti tomu, ak súhlasíme s odhadom Hashima 100.000 Isil bojovníkov, skupina stratila asi 1/10 ich
celkovej sily.
V tejto chvíli nie je jasné, koľko bojovníci Isil má, ale ich celková sila je pravdepodobne
bližšie ku 100,000 než 30,000,
Odhady USA sú jednoducho príliš nízke aby boli realistické,
zatiaľ čo high-endové odhady ruských a kurdských zdrojov sú oveľa pravdepodobnejšie.
original : WarOnTheRocks.com
pepe