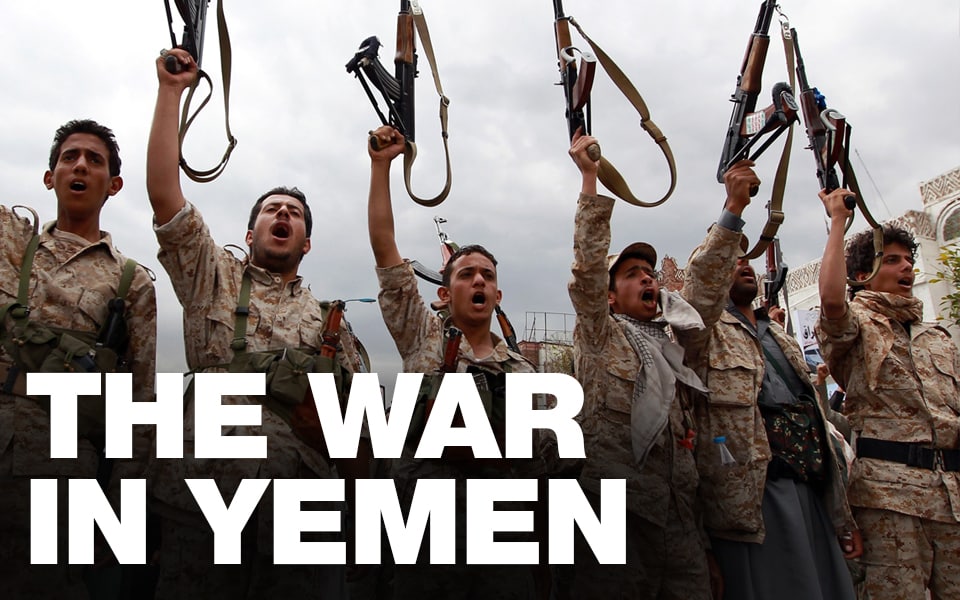 Zmietanie celého Blízkeho východu je ako zúriaca búrka, arabská jar zmenila kultúrnu a etnickú tvár krajín mnohých arabských spoločností, vrátane Jemenu. Napríklad
v Tunisku a Egypte boli nespokojní so súčasnou situáciou a aj vidiecky ľud v Jemene hrá svoju aktívnu úlohu v tejto masívnej pan-arabskej udalosti. Nezamestnanosť, zlé ekonomické
podmienky a korupcia boli hlavnými dôvodmi pre povstanie v Jemene, mimo iného krajina má jedno z najnižších hodnotení rozvoja v moslimskom svete popri Sudánu, Džibuti a Mauríciu.
Aj napriek zlej ekonomickej situácii v Jemene od začiatku tam boli dve hlavné sily, protivládny a provládny demonštranti. Snaha o dohodu bola od samého počiatku,
a Rada pro spolupráci arabských států uzavrela dohodu v apríli 2011. Ale Ali Abdullah Saleh, prezident Jemenu ju v tej dobe, odmietol podpísať. Po niekoľkých ďalších snaženiach
sprostredkovať dohodu to nepomohlo a malo za následok zlyhania dohody hlavne preto, že vláda svojim postojom pozastavila fungovanie Rady pre spoluprácu arabských státov v Jemene.
V nasledujúcich troch rokoch vznikli v celom Jemene početné strety.
prezident Saleh opustil krajinu, v roku 2014. Povstanie Houthis sa prehnalo cez severnú časť Jemenu. Všetky tieto udalosti vedú k súčasnej situácii v Jemene, čo
vyústilo do Rijádskej agresívnej vojny proti obyvateľstvu Houthis , čo poháňa strach z rozširovania vplyvu Iránu v arabskom polostrove.
Hnutie al Houthi má svoje korene späť do polovice deväťdesiatych rokov a jej politické a polovojenské skupiny nazvali Viera a mládež, zriadil ich Hussein Badr al Din al Houthi.
Skupina bola provládne orientovaná, ale po roku 2001. Keď sa prezident Alí Abdalláh Sálih spojil so Spojenými štátmi začali turbulencie. Hnutie al Houthi sa stavia proti USA,
rovnako ako proti vplyvu Saudskeho režimu, ktorý v priebehu rokov silnel. V roku 2004, kedy bol vodca Badr al Hussein Din al Houthi zabitý políciou, medzera medzi oboma stranami v
krajine sa prehĺbila. Šiitske obyvateľstvo, ktoré obýva severnú časť štátu má úzke väzby s týmto hnutím a zároveň podporuje ich dôvody v boji proti vláde a Wahhabistickej prítomnosťi
tlačenem režimom Saudov. Od začiatku občianskych nepokojov v roku 2011, Irán zvýšil podporu humanitárnych dodávok do krajiny, cez obvinenia z pašovania zbraní pre sily Houthis.
Rastúce nepokoje v Jemene eskalovali v roku 2015. do plného rozfúkania občianskej vojny medzi južnými separatistami a silami lojálnymi k prezidentovi Rabbuh Mansur Hadymu,
ktorí sa stretli
s Houthis silami a silami lojálnymi k bývalému prezidentovi Salehovi. Na prvý pohľad sa zdá, že sú tieto frakcie mätúce, ale hlavný boj beží medzi silami Houthis (čo
predstavuje šiitské obyvateľstvo) a silami lojálnymi ku vláde.
Medzi týmito dvoma veľkými skupinami je tiež oddelená Jemenská armáda, na jednej strane podporuje režim a na druhej dáva svoju
podporu Houthisu . Táto medzera v Jemenskej spoločnosti má svoj politický, náboženský, etnický a kultúrny rozmer. Zložitá situácia, ako je táto vyžaduje zodpovedajúci postoj
pri riešení konfliktu. Tvorba nejakej dohody medzi frakciami bude mať zásadný význam pre budúcu mediáciu a stabilitu v krajine. vojenská intervencia Rijádu len robi veci
zložitejšími. Bombardovanie krajiny, ktorá má rôznorodé spoločnosti, a je už v zlom stave, a to bez akýchkoľvek plánov na budúcu stabilizáciu a uvedenie legitímnej vlády
pripomína americkú intervenciu v Iraku v roku 2003. Čo sa stalo v Iraku v rokoch po invázii by mohlo vzniknúť v Jemene, ale s oveľa neblahejšími následkami. Niektoré z týchto
dôsledkov sú viditeľné aj dnes, vzostup ISIS a AQAP (Al-Kájdy na arabskom polostrove) ktoré medzi frakciami bojujú vo vojne v Jemene, je jasným znamením, že iba pomocou agresívnej
vojenskej intervencie to nemôže viesť k stabilnému riešeniu.
Zlý odhad a krátkozrakosť regionálnych a globálnych
mocností tlačí Jemen smerom k totálnemu kolapsu, ktorý môže slúžiť iba záujmom extrémistov a teroristov. Aby sa predišlo tejto situácii musí globálna komunita zaujať
oveľa aktívnejšiu úlohu v tomto konflikte, a urýchliť úsilie na dojednávaní medzi frakciami ktoré v súčasnosti bojujú. Mierový proces, ktorý by mal nasledovať
nepoteši priania susedných krajín, ale naopak musí pomoct ludom Jemenu, ich bezpečnosť a blahobyt.
Pokiaľ ide o Blízky východ, všetko sa zdá deje až príliš rýchlo. Boj o moc, ktora siaha až do koloniálnych dní, široká škála frakcií skrížených vo vojnách v zastúpení a
zničujúcich konfliktov kôli (rope) zmenila túto oblasť na bazén pre extrémistov a teroristov, ktoré predstavujú globálnu hrozbu. Ovládanie
priesmyku medzi Červeným morom a Adenským zálivom, Stabilita Jemenu má priamy vplyv na cenu ropy na svetových trhoch, a krajina je tiež pomerne blízko Somálska a Sudánu,
ktoré majú potenciál produkovať budúcich extrémistov a sú zo svojej podstaty nestabilné. Riešenie občianskej vojny v krajine s dôležitou geostrategickou polohou, ako je Jemen
môže zabrániť budúcej destabilizácii a zaistiť bezpečnosť pre celý región.
viac : https://soundcloud.com/slobodnyvysielac/sets/warsonline