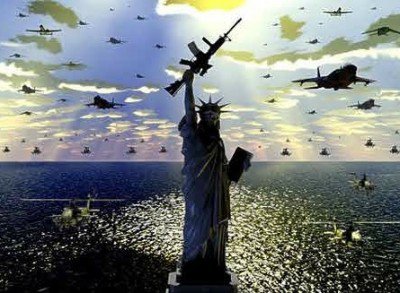 Hovorí sa, že história sa má tendenciu opakovať. Či vám to páči alebo nie, porovnajte si to z udalosťami
spred 36 rokov, kedy sa sovietske vedenie rozhodlo poslať sovietskych vojakov do Afganistanu.
Sovietske ozbrojené sily boli dosť silné, ale zdá sa, že len v hlave politikov sovietskeho zvazu.
Poslednoukvapkou, ktorá naklonila váhy v prospech invázie, bolo rozhodnutie západnej Európy uviestniť tam rakety stredného doletu "Cruise" a "Pershing – 2", ktoré by mohli udrieť na územie Sovietskeho zväzu.
V horných poschodiach moci boli tí, ktorí oponovali invázii do Afganistanu. Zrejme vzali do úvahy situáciu, v ktorej bol americký prezident Jimmy Carter a spravil takýto krok.
Bolo to v predvečer prezidentských volieb, a Američanom by vadili viac rukojemníci v Iráne, ako posilnenie pozície Sovietskeho zväzu v Afganistane. Carter by mohol vyzerať ako bezchrbťák v očiach voličov.
Podobná situácia je dnes vo vzťahoch medzi USA a Ruskom. Ako viete, v USA sú klany Snažía sa dosiahnuť rovnakého strategického cieľa, ale rôznymi spôsobmi. je to boj medzi nimi, a na medzinárodnej scéne.
Nedávne udalosti v Sýrii ukázali, že je nemožné, aby USA nepočítalo s ruskými vojenskými schopnostami, hoci Spojené štáty majú možnosti, ktorá nie sú menšie ako ruské, a môžu zodpovedajúcim spôsobom reagovať na ruské kroky.
Za takých okolností, prezident Barack Obama, vo svojej dobe, Carter nechcel vyzerať ako bezcharakterný a preto mu nevadilo zaviesť ešte tvrdší postoj voči Moskve. V novembri 2016 sa budu konať prezidentske voľby v USA . V súvislosti s pádom medzinárodnej prestíže Spojených štátov amerických súčasné mediálne správy musia maľovať krásny obraz úspechov zahraničnej politiky Obamu.
Ale veci: okolo zlyhania – v Sýrii, Ukrajine, a Afganistanu. USA ministerstvo zahraničia,
urýchlene rozhodlo o vyslaní ministra zahraničia Johna Kerryho do Strednej Ázie, aby zmapoval situáciu, a zároveň dal jasne najavo, vedeniam republík
Strednej Ázie, že ich neriadi Moskva ale Washington a dal im nevyhnutne pokyny , V chodbách novej Obamovej
administratívy boli sformované diplomatické kontakty C5 + 1. Medzi päť stredoázijskými republíkami a USA.
V skutočnosti, ministerstvo zahraničia zvažuje nový formát Naopak – 1 + C5, a prvý ťah na šachovnici by mal vždy patriť Washingtonu.
V posledných rokoch, USA vytvorilo pozdĺž ruských hraníc "oblúk nestability". Zvlášť dobre to možno vidieť na ruských západných hraniciach od Baltu
až k Čiernemu moru. Washington sleduje určité záujmy, medzi ktorými sú predovšetkým prevencia oživenia ruského vplyvu v
regióne, a zabránit prevahe Číny a Iránu, a prístupu k riadeniu energetických zdrojov.
Preto z hľadiska geopolitiky v regióne navšteva Kerryho v strednej Ázii môže byť považovaná za výzvu k Rusku, a naznačuje, že USA sa nemieni vzdať vplyvu v tomto regióne, a s ohľadom na sýrsku a afgansku krízu zvýšia geopolitickú a vojenskú prítomnosť v Strednej Ázii s cieľom uzdravovať národy Strednej Ázie v rámci svojho "dáždnika",a udržiavat s nimi úzke vzťahy . Nebude to len o ekonomickej a vojensko-politickej spolupráci.
To znamená, že sa bavíme o budúcom rozmiestnení amerických vojenských zariadení.
V poslednej dobe, známy politik, bývalý vedúci správy ex – afganskeho prezidenta Hamid Karzai – Abdul Karim Khorram, ktorý mal veľký vplyv na hlavu štátu, v exkluzívnom rozhovore pre "Afganistan.Ru" povedal o skrytých zámeroch Spojených štátov v Afganistane. Podľa jeho slov, "od samého počiatku americké snahy boli zamerané na vytváranie vojenskej základne v Afganistane. Počas posledných 13 rokov, USA a NATO v Afganistane, používali značné ľudské a materiálne zdroje, ale nebol to boj proti terorizmu.
Vedenim vojny v Afganistane sa určité kruhy na Západe,snažili ovladat teroristicke skupíny s cieľom minimalizovať ich straty od teroristických akcií, a potom ich poslať proti ich konkurentom. Tieto západné kruhy sa podielali na destabilizácii severu Afganistanu a dali si za úlohu cez Afganistan destabilizovať situáciu v Strednej Ázii,a odtiaľ ohrozovať Rusko a Čínu. Z týchto dôvodov, Obama, nedodržal volebné sľuby a oficiálne oznámil, že v poslednej dobe zmenil názor na stiahnutie vojakov z Afganistanu. Hlavnými dôvodmi pre takéto rozhodnutie je podla USA slabosť afganskej armády a hrozba pre americkú národnú bezpečnosť. V skutočnosti je Washington riadený veľmi rozdielnymi úvahami, ktoré sú priamo priraďované k akciám Ruska v Sýrii.
Podľa Obamoveho plánu, asi 9800 vojakov "bude prítomných na väčšine územia krajiny v budúcom
roku." Po roku 2016 si Spojené štáty "budú uchovávať 5500 vojakov na malom počte vojenských základní," povedal Obama a dodal, že je to o Bagram, Kandahár a Jalalabad. "Afganistan – je vynikajúca základňa, z ktorej sa dá dokonale ovládať Rusko a Čína. Afganské sily stále nie sú tak silné, ako by mali byť – povedal Obama. – Situácia v Afganistane je krehká, je tu riziko zhoršenia. Táto misia zodpovedá životne dôležitým záujmom našej národnej bezpečnosti. "
Obama tiež nevylúčil, že USA budú pokračovať v udržiavaní vojakov v Afganistane na neurčito. "Budeme aj naďalej vyhodnocovať situáciu v budúcnosti," – povedal a dodal, že Spojené štáty môžu "prijať nové zmeny" v počte vojakov. V reakcii na rozhodnutie Washingtonu bývalý prezident Afganistanu Hamíd Karzaj povedal: "Ľudia v Afganistane sa pred 14 rokmi dohodli na zmiernení prítomnosťi cudzích vojsk v nádeji, že bude odstránený terorizmus a udržiavanie mieru v regióne.
Prítomnosť zahraničných vojsk v mene boja proti terorizmu, nielen že neviedlo k jeho eliminácii ale v priebehu tohto obdobia sa Terorizmus stal ešte silnejší.
" A kto potom hovorí, že sa to nemôže stať v krajinách Strednej Ázie?
pepe
Warsonline